JOE MEEK
---
CD: Zusammenstellungen / Compilations
Various Artists (chronologisch)
Tracklisting und weitere Info: Bitte klicken Sie auf das Cover
Tracklisting and further info: Please click on the cover

The Joe Meek Story, Vol. 1: 1960
GER 1991, 1 CD. Line Records TRCD 9.01081

The Joe Meek Story, Vol. 2: 1960-61
GER 1992, 1 CD. Line Records TRCD 9.01082

The Joe Meek Story: The Pye Years
GB 1991, 2 CD. Sequel Records NED CD 171

304 Holloway Road: The Pye Years, Volume 2
GB 1993, 1 CD. Sequel Records NEX CD 216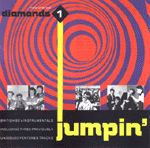 Jumpin': Instrumental Diamonds, Vol. 1
GB 1991, 1 CD. Sequel Records NEX CD 149

Highly Strung: Instrumental Diamonds, Vol. 2
GB 1991, 1 CD. Sequel Records NEX CD 150

Out Of This World: Instrumental Diamonds, Vol. 3
GB 1993, 1 CD. Sequel Records NEX CD 244

Work In Progress: The Triumph Sessions
GB 1994, 1 CD. RPM Records RPM 121

Ritchie Blackmore: Take It
GB 1994, 1 CD. RPM Records RPM 120

John Fitzgerald Kennedy: Four Days That Shocked The World
GB 1994, 1 CD. RPM Records RPM 122

Joe Meek: The Musical Adventures Of
GB 1994, 1 CD. Kenwest Music Records KNEWCD 746

There's Lots More Where This Came From:
The Exceptional Joe Meek - The Missing Recordings & Rarities
GB 1994, 1 CD. Oxford Records OX-CD HR 304

It's Hard To Believe It: The Amazing World Of Joe Meek
USA 1995, 1 CD. Razor & Tie Music RE 2080-2

Let's Go: Joe Meek's Girls
GB 1996, 1 CD. RPM Records RPM 166

Joe Meek: Presents 304 Holloway Road
USA 1996, 1 CD. Sequel Records 1038-2
The Joe Meek Collection: Intergalactic Instro's
GB 1996, 1 CD. Diamond Records GEMCD 002

RGM Rarities, Vol. 1: The R'n'R Era
GB 1997, 1 CD. Diamond Records GEMCD 012
RGM Rarities, Vol. 2: The Beat Group Era
GB 1997, 1 CD. Diamond Records GEMCD 016

The Joe Meek Story, Vol. 5: The Early Years
GB 1997, 1 CD. Sequel Records NEMCD 882

The Joe Meek Collection: Hidden Gems, Vol. 1
GB 1998, 1 CD. Diamond Records GEMCD 022

Triumph Records - The History Of A Label
GB 1999, 1 CD. Diamond Records GEMCD 029
Joe Meek's Groups: Crawdaddy Simone
GB 2001, 1 CD. RPM Records RPM 227

The Alchemist Of Pop: Home Made Hits & Rarities 1959-1966
GB 2002, 2 CD. Sanctuary Records CMEDD 496
Telstarmania
F 2003, 1 CD. Magic Records 3930350

The Legendary Joe Meek Presents ...
GB 2005, 1 CD. Castle/Pulse Records PLSCD 769

Portrait Of A Genius: The RGM Legacy
GB 2005, 4-CD-Box. Castle Records CMXBX 783
Ritchie Blackmore: Getaway
GB 2005, 2 CD. Castle Records CMEDD 1029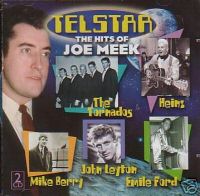 Joe Meek: Telstar - The Hits Of Joe Meek
GB 2006, 2 CD. Castle Records PDSCD 651

Joe Meek: Freakbeat
GB 2006, 1 CD. Castle Records CMQCD 1415

Diamond Joe: The Sound Of Meeks-Ville
GB 2007, 1 CD. RPM Records RPM 325

Vampires, Cowboys, Spacemen & Spooks: The Very Best Of Joe Meek's Instrumentals
GB 2007, 2 CD. Castle Records CMEDD 1456

They Were Wrong! Joe's Boys, Vol. 1
GB 2007, 2 CD. Castle Records CMQDD 1457

Joe Meek: The EP Collection
GB 2007, 12 CD-Singles-Box. Sanctuary Records CMXBX 1461

Geoff Goddard, The Tornados and others: T-Chest Treasures
GB 2007, 1 CD-R. Joe Meek Society NMCD 1
---
Abkürzungen in den Titellisten / Abbreviations used in the track lists
(*): Meek war Balance Engineer, aber nicht Produzent der Aufnahme. / Meek was balance engineer, but not producer of the recording.
(**): RGM- bzw. Meeksville-Produktion, aber Meek war nicht selbst an der Aufnahme beteiligt. / RGM resp. Meeksville production, but no contribution of Meek himself.
(***): Demo- oder nicht fertiggestellte Aufnahme / Demo or unfinished recording
nv: Die Aufnahme wurde zu Meeks Lebzeiten nicht veröffentlicht. / The recording was not released within Meek's lifetime.
---
Abbildungen/Pictures: Sammlungen/Collections Harald Bluschke, Thomas Meyer und Jan Reetze
---
[Home] [Joe Meek Portrait] [Complete Recordings] [Meek Compositions] [Triumph Story] [CD Discography]
[Noten/Scores] [Telstar Cover Versions] [Meek in Germany] [Literature, Documentaries etc.]
[Miscellaneous] [Links] [About] [Contact] [Sitemap]
---
© 2006 Thomas Meyer, Jan Reetze
last update: April 26, 2011