JOE MEEK
---
Literatur & andere Quellen
Literature & other sources
Bücher, Presseartikel, Radio- und Fernsehsendungen, Dokumentarfilme etc. über Joe Meek
Books, press articles, radio and TV broadcasts, documentaries etc. on Joe Meek
BÜCHER /
BOOKS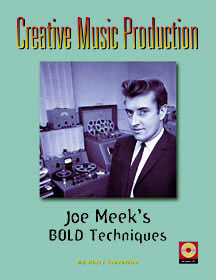 Erstauflage / first edition 2001 und Neuauflage / new edition 2011
Cleveland, Barry:
Joe Meek's Bold Techniques
Erstausgabe: MixBooks; Vallejo, CA (USA) 2001; ISBN 1-931140-08-1; 263 pages including discography and photos. In 2011, a 2nd edition has been released as e-book. In englischer Sprache. English language only.
Der biographische Teil hält sich weitgehend an belegbare Fakten; gelegentlich kommt der Autor dennoch zu Schlüssen, über die sich streiten lässt (vgl. dazu hier und hier). Der Schwerpunkt liegt aber auf Meeks Studioausstattung, seiner Arbeitsweise und dem Zustandekommen des typischen Meek-Sounds, und da ist Cleveland fit.
Als Zugabe enthält das Buch eine CD mit der Kopie eines Acetats einer LP, die Meek unter dem Titel I Hear A New World in dieser Abmischung und Titelsequenzierung wohl geplant hatte, die aber nie veröffentlicht wurde. Diese Fassung weicht deutlich hörbar von der auf RPM 103 bzw. RPM 502 veröffentlichten Version ab und ist die hörenswertere (siehe hier die CD-Diskographie).
Die 2011 als 2. Auflage erschienene E-Book-Version enthält dem Augenschein nach keine sensationellen Neuigkeiten oder Änderungen außer einem Interview mit den Filmemachern Howard S. Berger und Susan Stahman ("A Life In The Death Of Joe Meek", siehe weiter unten). Die ursprünglich beigelegte CD ist nun restauriert worden und per Link als MP3-File erhältlich.
The biographic part offers substantial facts; though sometimes the conclusions the author draws are open to dispute (cf. here and here). Anyway, the main points covered are Meek's studio gear, his working methods and how the typical Meek sound was made, and Cleveland is fit on that.
The book comes with a CD which contains the copy of an acetat pressing of the LP I Hear A New World. Meek apparently planned to release the album in this mix and track sequence, but the LP did never see the light. This version is audibly different from the version released on RPM 103 and RPM 502, and it's the better one (see CD discography here).
As it looks, the 2nd edition, released as e-book in 2011, has no sensational news or changes except an interview with filmmakers Howard S. Berger and Susan Stahman ("A Life In The Death Of Joe Meek", see below). The CD coming with the original book has now been restored and is available via link as MP3 file.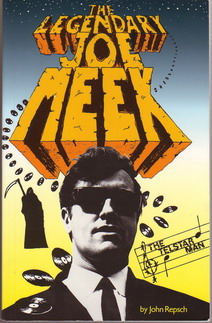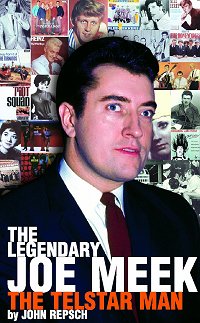 Erstauflage / first edition 1989 und Neuauflage / new edition 2000
Repsch, John:
The Legendary Joe Meek - The Telstar Man
Erstausgabe im Eigenverlag, London 1989; erweiterte und revidierte Neuauflage Cherry Red Books, London 2000; ISBN 1-901447-20-0; 350 Seiten inkl. Diskographie und Fotostrecke. Nur in englischer Sprache erschienen.
First edition self-published London 1989; enlarged and revised re-edition Cherry Red Books, London 2000; ISBN 1-901447-20-0; 350 pages incl. discography and photo pages. Available only in English language.
Die definitive Meek-Biographie. Eine auf jahrelanger Recherche beruhende Materialsammlung, eine unglaubliche Fleißarbeit und für Meekianer ein unverzichtbares Teil. Leider nur versucht der Autor immer wieder, wirklich jede Information, die er gesammelt hat, irgendwie unterzubringen. Dadurch wird das Buch streckenweise unnötig kompliziert und verliert sich in unwesentlichen Details. Zudem wird nicht immer ausreichend klar, was belegbare Tatsache und was nur Vermutung, Hörensagen oder Mythos ist.
The definitive Meek biography. A gathering of information based on longstanding research, sheer hard work, essential for all Meekians. The only weak spot is that the author tried to put in really anything he found, so the book is sometimes a bit too complicated and peters out in inessential details. Besides this it's not always clear enough what's verified fact and what's just speculation, hearsay or myth.
Voss, Werner:
Der Satellit aus der 4-Spur-Bandmaschine - Joe Meek und sein R.G.M.-Sound
in: Rock Session 2, Rowohlt Taschenbuch, Reinbek 1978; ISBN 3-499-17156-2; Seite 254 - 268. Mit Fotos; in deutscher Sprache. German language only.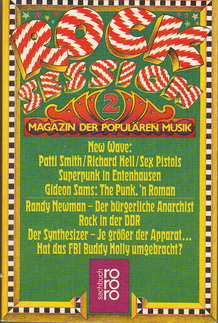 Werner Voss betrieb von 1974 bis zu seinem Tod im Dezember 2013 sein immer hörenswertes monatliches "Rock and Roll Museum" im NDR. In diesem Artikel hat er zusammengetragen, was in den Spätsiebzigern an Informationen über den damals komplett vergessenen Joe Meek zu bekommen war. Manches davon ist inzwischen überholt, gelegentlich ist Voss auch Falschinformationen oder Missverständnissen aufgesessen - eine Vierspurmaschine zum Beispiel hat Meek für seine eigenen Produktionen nie benutzt -, aber das ist nicht wichtig. Voss' Artikel beschreibt Meeks Methoden, nennt die wichtigsten Einspielungen und dürfte nach wie vor die faktenreichste Darstellung sein, die in deutscher Sprache in gedruckter Form über Meek und die von ihm produzierten Musiker zu finden ist.
From 1974 until his death in December 2013, Werner Voss ran his monthly "Rock and Roll Museum" in Hamburg's NDR radio. In this article he summed up all information on Joe Meek that was available in the late 1970s when Meek was completely forgotten. Some information is outdated now, in some other cases Voss was taken by wrong information or misunderstandings - for example, Joe never used a four-track tape recorder for his own productions -, but that's not really important. Voss' article explains Meek's methods, names his important recordings and is probably still the best-researched printed article in German language on Meek and the musicians he produced.
ZEITSCHRIFTEN UND ZEITUNGEN
MAGAZINES AND NEWSPAPERS
FRANKFURTER RUNDSCHAU (Deutschland)
Walter, Klaus:
Joe Meek - Der Techno-Nekromantiker
Die Kurzfassung des weiter unten aufgeführten "Rolling Stone"-Artikels, nachzulesen hier (deutsch), 3. Februar 2007.
FUZZ (Sweden)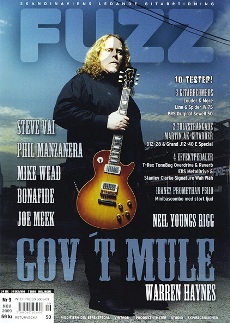 Joe Meek - Englands Phil Spector
Fuzz - Skandinaviens Ledande Gitarrtidning, November 2009 (nicht online/not online). Der Vergleich von Joe Meek mit Phil Spector scheint nicht ausrottbar zu sein; siehe dazu auch hier. Apparently the comparison between Joe Meek and Phil Spector is not eradicable; see also here.
GOOD TIMES (Deutschland)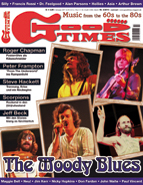 Bender, Norman:
Joe Meek - Auf der Suche nach einer schönen neuen Welt
GoodTimes - Music from the 60s to the 80s, 03/2010, S. 92 - 93 (in deutscher Sprache, nicht online). Einmal mehr eines der üblichen Kurzportraits.
MOJO (UK)
McCready, John:
Joe Meek
Die vollständige Fassung eines in "Mojo" nur stark gekürzt veröffentlichten Artikels, der viele interessante Detailinformationen enthält. Einige allerdings - insbesondere die Vermutungen über Joe Meeks angeblichen LSD-Konsum - sind, vorsichtig gesagt, fragwürdig. Der Artikel stand jahrelang online, ist aber 2010 zusammen mit der Homepage seines Verfassers verschwunden.
An abridged version of this article appeared in "Mojo"; here is the complete version which contains a lot of interesting detail informations. Some of them, however - especially the speculations on Joe Meek's use of LSD -, are questionable, to say the least. The article was online for several years but disappeared in 2010, along with its author's webpage.
RECORD COLLECTOR (UK)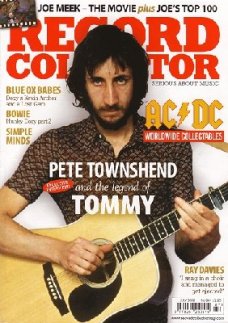 Nr. 364, Juli 2009, Seite 23: eBay-watch: The five highest-selling Joe Meek-Produced singles this month
Nr. 364, Juli 2009, Seite 28-31: Joe Meek - The Movie (article by Rob Bradford)
Nr. 364, Juli 2009, Seite 32-40: Joe Meek - 100 Singles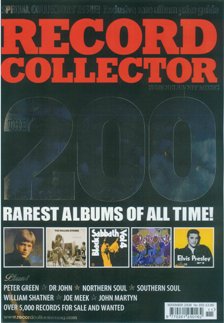 Nr. 355, November 2008, Seite 26-28: Joe Meek and the legendary Tea Chest Tapes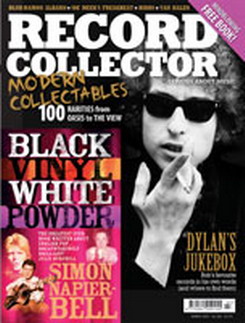 Nr. 334, März 2007, Seite 68-72: Joe Meek, Part 2 - The Freakbeat Years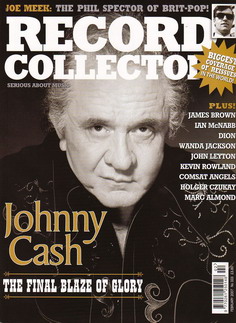 Nr. 333, Februar 2007, Seite 28-37: Joe Meek - The Phil Spector Of Brit Pop, Part 1
Nr. 333, Februar 2007, Seite 38-39: John Leyton - Johnny, Remember Me?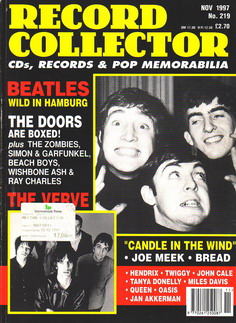 Nr. 219, November 1997, Seite 50-54: The Joe Meek Legacy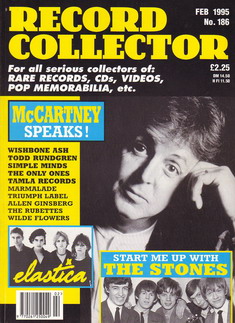 Nr. 186, Februar 1995, Seite 70-75: TheTriumph Label
Nr. 134, Oktober 1990, Seite 26-29: Joe Meek
Nr. 70, Juni 1985, Seite 34-40: The Great Producers: The RGM Sound Of Joe Meek,
Part 2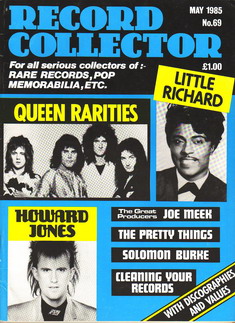 Nr. 69, Mai 1985, Seite 24-30: The Great Producers: The RGM Sound Of Joe Meek,
Part 1
ROLLING STONE (Deutschland)
Walter, Klaus:
Joe Meek
Februar 2007, S. 80 - 85 (in deutscher Sprache; nicht online). So erfreulich es einerseits ist, wenn Joe Meek überhaupt einmal in einer deutschen Popgazette erwähnt wird, so ärgerlich ist es dann, wenn der Artikel im wesentlichen wieder nur die üblichen Halbwahrheiten und Übertreibungen aus dem Archiv reproduziert. Zudem versteigt sich der Autor in einige recht steile Thesen über "schwule Musik" (siehe dazu auch hier).
TAPE OP (USA)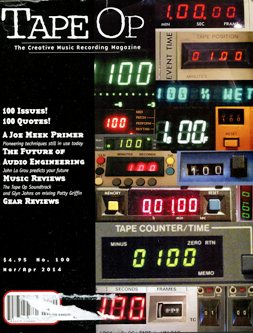 Cleveland, Barry:
A Joe Meek Primer for Audio Enthusiasts
No. 100 (March/April 2014); p. 14-16, English language, not online. Wer sich in erster Linie über technische Fragen im Zusammenhang mit Joe Meek informieren will, ist in Barry Clevelands Artikel ebenso gut aufgehoben wie schon in seiner Meek-Biographie (s. oben).
If you want to get information about technical questions connected to Joe Meek in the first place, then you are in safe hands with Barry Cleveland's article, as well as already with his Meek biography (see above).
RADIO
The Joe Meek Story
BBC Radio Bristol tells the story of pop's first maverick pioneer.
Radioportrait. Moderation: Jess Conrad u.a.; BBC Radio Bristol; 28. Dezember 2008, 60 Minutes.
Exzentrik und Elektronik - der englische Produzent Joe Meek
Zwei Stunden Musik von Joe Meek, dazu einige knappe Basisinformationen; Moderation: Günther Janssen; Deutschlandfunk, 14. April 2007, 2 x 55 Minuten.
Holloway Dreams - The Joe Meek Story
Dreiteiliges Radiofeature von Russell Davies, präsentiert von Tom Robinson; BBC Radio 2; 6., 13. und 20. Februar 2007; jeweils 30 Minuten. In englischer Sprache.
BBC online: "Britain's premier independent record producer of the early 60s, Meek was equally renowned for his pioneering recording techniques and eccentric personality as well as for the futuristic sounds he created. This new three-part series – presented by Tom Robinson - marks the 40th anniversary of his death.
This is the story of a true original, record producer, sonic innovator and eccentric uncle to studio geeks everywhere."
Erstklassig. Die alte Tante BBC kann's wie immer am besten. / First-class. Good old auntie BBC is still the best, as always.
Werner Voss' Rock and Roll Museum
Ausgabe anlässlich des 40. Todestages von Joe Meek. NDR-Info, 3. Februar 2007, 55 Minuten.
Walter, Klaus:
Hommage an Joe Meek
Hessischer Rundfunk HR2, Frankfurt/M., 3. Februar 2007. Ein Zweitaufguss des obengenannten "Rolling Stone"-Artikels. Nachzulesen hier (German language).
Wunnicke, Christine:
Leben, Tod und Mysterien des fabelhaften Joe Meek
Radiofeature, 58 Minuten, Bayrischer Rundfunk, 10. Mai 2002. Nachzulesen hier (German language).
Brian Matthew:
Insight: Joe Meek
Radiofeature, BBC 1976, ca. 60 Minuten.
DOCUMENTARIES / TV / DVD
The Very Strange Story Of The Legendary Joe Meek
Dokumentation von Alan Lewens. Aus der Reihe "Arena", BBC 1991, 58 Minuten. Zusammen mit einer Doku über Larry Parnes im Internet auf DVD zu finden, wenn man lange genug sucht.
Along with a docu on Larry Parnes on a DVD which can be found on the web if you search for it long enough.
A Life In The Death Of Joe Meek
Dokumentarfilm von Howard S. Berger und Susan Stahman, U.S.A. 2008 (Palm Door Films), ca. 120 Minuten. Der Film war damals auf verschiedenen Festivals zu sehen, wurde und wird aber nach wie vor um weiteres Material ergänzt, teilweise durch Crowdfunding finanziert. 2014 fanden weitere Festivalvorführungen statt, aber anscheinend wird weiter an dem Film gearbeitet.
Documentary by Howard S. Berger and Susan Stahman, U.S.A. 2008 (Palm Door Films), circa 120 minutes. The film could be seen on several festivals, since then (and still) some new material is going to be added, in parts crowdfunded. For 2014, some new festival showings took place, but the film seems to be still in the making.
Web info here / Web-Infos hier.
BBC journalist John Cavanagh on the movie here.
Telstar - The Movie
Directed by Nick Moran, GB 2008.
Keine Dokumentation, sondern ein Spielfilm; Info siehe deshalb hier.
No documentary film but a fictional movie; info see here.
AUS DEM UMFELD
RELATED MATERIAL
Krüger, Ulf:
Star-Club - Der bekannteste Beat-Club der Welt
Star-Club - The Most Famous Beat-Club In The World
Hannibal, Höfen 2010; ISBN 978-3-85445-329-1;
Großformat-Paperback, 306 Seiten. Zweisprachig (deutsch/englisch).
Large size, 306 pages. Bilingual (German/English).
Der Star-Club in der Großen Freiheit 39 in Hamburgs Rotlichtbezirk St. Pauli existierte vom 13. April 1962 bis zum 31. Dezember 1969 und dürfte in der Tat Hamburgs berühmtester Musikclub gewesen sein. Ulf Krüger dokumentiert seine Geschichte. Dies ist kein Buch über Joe Meek, aber etliche seiner Acts, unter anderem Screaming Lord Sutch, The Tornados und Emile Ford, gastierten dort und sind mit Fotos und Dokumenten im Buch erwähnt. (Siehe dazu auch hier.)
The Star-Club resided in 39 Große Freiheit in Hamburg's famous red light district St. Pauli. It existed from April 13, 1962, to December 31, 1969, and indeed it was Hamburg's most famous music club. Ulf Krüger documents its story. This is not a book about Joe Meek, but several of his acts, among others Screaming Lord Sutch, The Tornados and Emile Ford, rocked this venue and are mentioned in this book with pictures and documents. (See also here.)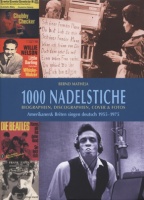 Matheja, Bernd:
1000 Nadelstiche - Biographien, Discographien, Cover & Fotos: Amerikaner & Briten singen deutsch 1955-1975
Bear Family, Hambergen 2000, 3. Auflage 2007; ISBN 978-3-89916-282-0; Großformat-Hardcover, 360 Seiten. No English translation available.
Viele internationale Künstler, von Connie Francis über Petula Clark bis zu Johnny Cash beglückten die deutschsprachigen Hörer von den späten Fünfzigern bis hinein in die frühen Siebziger mit selbstgesungenen deutschen Versionen ihrer Songs. Aus Sandie Shaws Puppet On A String wurde ein Wiedehopf im Mai, Johnny Cashs Five Feet High And Rising kam als Wo ist zu Hause, Mama? daher, und statt Needles And Pins lieferten die Searchers 1000 Nadelstiche - oder, um in der Originaldiktion zu bleiben: "Taussn Naddelschtischa".
Auch an Joe Meek ging diese Welle nicht spurlos vorüber, wenngleich das Ergebnis eher bescheiden ausfiel: Nur fünf Singles mit deutschen Versionen produzierte Meek mit seinen Künstlern zwischen 1961 und 1964, und lediglich eine davon war einigermaßen erfolgreich. Alle deutschen Produkte aus Meeks Küche finden Sie hier, und sie alle sind auch in Mathejas Buch aufgeführt.
Kenntnisreich, humor- und liebevoll stellt der Musikjournalist Bernd Matheja die Ära und ihre Künstler vor (die Sänger wie auch die Textdichter), zum Nachhören dokumentiert zudem auf mittlerweile 12 CDs.
Between the late fifties and the early seventies, several international artists, Connie Francis as well as Petula Clark or Johnny Cash and many more, recorded German versions of their songs - with sometimes strange results.
Even on Joe Meek this wave left its mark, although the outcome was modest: Only five singles with German versions were produced by Meek and his artists between 1961 and 1964, and just one of them sold fairly well. All productions from Meek's kitchen are listed here, and they all are included in this book.
Well-informed, with sympathy and a good deal of humor music journalist Bernd Matheja presents the era, the singers, the lyricists and a lot of background knowledge. Additional, all the music is documented on meanwhile 12 CDs.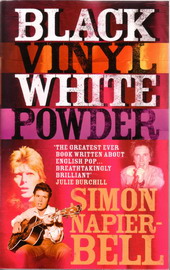 Napier-Bell, Simon:
Black Vinyl, White Powder
Ebury Press, London 2002; ISBN 0-09-1880920; 468 Seiten; Paperback. Im Anhang ein exzellentes Register und Personenlexikon. Nur in englischer Sprache erhältlich. In the appendix there's an excellent register and encyclopedia of names. Available only in English.
Simon Napier-Bell schildert die Geschichte der britischen Musikindustrie seit den 1950er Jahren. Ein bisschen zu sehr strapaziert der Autor dabei das gute alte "Sex & Drugs & Rock'n'Roll"-Klischee, tut dies aber höchst unterhaltsam und - vor dem Hintergrund seiner eigenen Rolle in diesem Geschäft - natürlich bestens informiert. Ein besonderer Schwerpunkt liegt auf dem Einfluss der Gay Culture auf die englische Popmusik, den der Autor gleichsetzt mit dem Einfluss der Black Culture auf die amerikanische Popmusik. Klar, dass auch Joe Meek und einige seiner Musiker und Bands in dem Buch erwähnt werden. Auch wenn dies kein Buch über ihn ist, so vermittelt es doch einen exzellenten Einblick in die Atmosphäre und die Arbeitsbedingungen der Musikszene, deren Teil er war.
Simon Napier-Bell reports the history of the British music industry since the early 1950s. The author goes a bit over the top in his usage of the dear old "sex & drugs & rock'n'roll" cliché, but he's doing it highly entertaining and - seen against the background of his own role in this business - very well informed, of course. A special focal point is the influence of the gay culture on the english pop music scene; the author sets it on a level with the influence the black culture had on the American pop music. Of course, Joe Meek and some of his musicians and bands are mentioned. This is not a book on him, but it conveys an excellent insight into the atmosphere and working conditions of the music scene he was a part of.
Sharpe, Graham:
The Man Who Was Screaming Lord Sutch
Aurum Press, London 2005; ISBN 1-85410-983-9; 282 Seiten inkl. Diskographie und einer Auflistung aller Wahlergebnisse der "Official Monster Raving Loony Party" + Fotostrecke. In englischer Sprache; inzwischen auch als Taschenbuch zu haben. 282 pages including discography and a complete listing of all "Official Monster Raving Loony Party" election results, also available as paperback. Eine deutsche Übersetzung liegt nicht vor.
"He is a British institution. Some say he should be inside one", schrieb "The Independent" über David Edward "Screaming Lord" Sutch (1940-1999), Exzentriker, Musiker, Radiopirat und Gründer der "Official Monster Raving Loony Party". Sutch, der in Joe Meek fraglos den einzigen wirklich kongenialen Produzenten für seinen vergnüglichen Horror-Unsinn gefunden hatte, war auf der Bühne die klassische "Rampensau", konnte virtuos und voller Schlagfertigkeit mit der Presse und dem Fernsehen spielen und trat mit liebenswerter Hartnäckigkeit immer wieder als Spitzenkandidat seiner "Official Monster Raving Loony Party" zu den britischen Unterhaus- und Europawahlen an ("Vote for insanity - you know it makes sense!"). Zudem war er Anteilseigner an der amerikanischen Verstärkerfirma Marshall. Aber es gab auch dunkle Seiten. Zeitlebens wurde er von Depressionen gequält, es gelang ihm niemals, sich von seiner Mutter zu lösen oder damit aufzuhören, unsinniges Zeug zu horten. Und künstlerisch blieb er stehen. In den achtziger Jahren bekam er noch dazu wegen seines Titels Jack The Ripper Ärger mit Teilen der englischen Frauenbewegung: Aus nicht erfindlichen Gründen nahmen etliche Frauen das Stück, das immer noch der Höhepunkt seiner Bühnenshow war, für bare Münze und empörten sich über die vermeintliche "Hommage". Das führte wiederholt zu Tumulten, Konzertabbrüchen und Angriffen auf Sutchs Person. - Seine letzten Liveauftritte in den neunziger Jahren - es liegen einige Mitschnitte auf DVD vor - machen einen verwahrlosten Eindruck und lassen den Zuschauer eher traurig zurück. Am Ende sah seine Lordschaft keinen anderen Weg mehr als sich in seinem zugemüllten Haus zu erhängen - vermutlich gerade noch rechtzeitig, um nicht im "Dschungel-Camp" oder vergleichbaren TV-Shows zu enden. Sein Tod am 16. Juni 1999 war sogar den ARD-"Tagesthemen" einen Korrespondentenbericht wert. - Das Buch läuft zäh an, ist ein bisschen unsystematisch, fährt vor allem gegen Ende immer neue Beispiele auf, um den immer wieder selben Sachverhalt zu illustrieren und landet dabei nicht selten in der Küchenpsychologie. Alles in allem dennoch ein lesenswertes, mit kritischer Empathie geschriebenes Buch über eine Pop-Eminenz, von der bis heute jeder mal gehört hat und über die doch kaum jemand etwas weiß.
"He's a British institution. Some say he should be inside one" is what the Independent wrote about David Edward "Screaming Lord" Sutch (1940-1999), excentric, musician, radio pirate and founder of the "Official Monster Raving Loony Party". Without question Joe Meek was the truly congenial producer for Sutch's pleasurable horror nonsense. On stage he was a classic "limelight hog", he was a virtuoso in playing with the press and the TV, and with adorable persistency he ran again and again as top candidate for his "Official Monster Raving Loony Party" for the British House of Commons and the European Parliament ("Vote for insanity - you know it makes sense!"). Besides this he had a share on the U.S. amp manufacturer Marshall. But there was a dark side too. For his whole life Sutch suffered from depressions, he was never able to detach himself from his mother and couldn't stop his compulsive hoarding of all kinds of rummage. And musically there was no development. The few recordings he did after Meek's death are more or less forgettable, obviously he was also unable to keep his stage show up to date. Moreover, in the 1980s he got into trouble with parts of the English feminist movement for his tune Jack The Ripper: For incomprehensable reasons several women took this song - which still was the climax of his stage show - at face value and bristled at the supposed "homage". Repeatedly this lead to abandoned performances, hubbubs and attacks on Sutch. His last live performances in the 1990s - some of them are available on DVD - leave a mark of neglect and are more saddening than entertaining. In the end His Lordship didn't see any other way than to hang himself in his littered-up house - probably just in time not to have to end up in "I'm A Celebrity - Get Me Out Of Here" or similar TV shows. Even "Tagesthemen", Germany's most serious TV news magazine, had a correspondent report on his death on June 16, 1999. - The book's first part is a bit stringy and unsystematic, in the last part the author presents new examples over and over to illustrate the always same facts of the case and ends up sometimes in kitchen sink psycology. Anyway, Screaming Lord Sutch is a pop icon everybody has heard of but nobody really knows much about him. This book is critical as well as full of sympathy and well worth a read.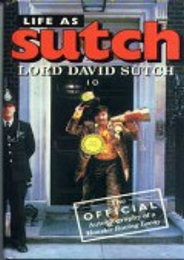 Sutch, David with Chippindale, Peter:
Life As Sutch
Harper Collins, London 1991; ISBN 0207172404; 225 pages, hardcover.
---
Pictures & info: Harald Bluschke, Jan Reetze, Jörg Richard, Aurum Press, Bear Family Records, Cherry Red, Ebury Press, Fuzz, GoodTimes, MixBooks, Palm Door Films, Record Collector, Rolling Stone Deutschland, Rowohlt Verlag, Tape Op Magazine
---
[Home] [Joe Meek Portrait] [Complete Recordings] [Meek Compositions] [Goddard Compositions] [Triumph Story] [CD Discography] [Noten/Scores] [Telstar Cover Versions] [Meek in Germany] [Literature, Documentaries etc.] [Miscellaneous] [Links] [About] [Contact] [Sitemap]
---
© 2006 Jan Eric Reetze
last update: Aug 15, 2015