JOE MEEK
---
Joe Meek - a Portrait
Part 13: Hereafter
(

hier!)
What if ...?
Of course this is a useless question, but speculating is allowed: Had Joe Meek not taken his landlady's and his own life, and had he overcome his addiction to pills - what could have been his future?
There would have been no business as usual for him, that's for sure. His job at Abbey Road Studios, had he accepted, would have worked for a couple of months, but then at latest he would have been at loggerheads again with bosses and co-workers, so he would have thrown in the towel and returned to self-employment. A change-over of his studio to 8- or 16-track stereo recording would have been indispensable then. Also probably he would have had to move to another place - recording pop music was possible in 304 limpingly, but it would have been impossible to record full-blown rock bands there, for volume- and other reasons.
But who knows, maybe anything would have turned to a completely different direction. Just in 1968 there was a new instrument under way: the synthesizer. We can be sure the idea of music production with this new tool would have been downright electrifying for Meek. Under guarantee he would have been among the first people ordering their exemplar from U.S. engineer Robert Moog.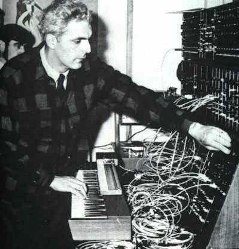 Bob Moog at his Modular 55 Synthesizer
(Photo: Universal Audio)
The Moog Synthesizer, combined with multitrack recording technology and other developments like rhythm machines and sequencers: To Meek that would have been a completely new field of activity - only the sky would have been the limit for constructing new sounds and effects. The synthesizer technology and Meek's whole way of thinking and working would have complemented each other in a nearly ideal way. Who knows, maybe the first synthie pop hit then would not have been Popcorn (written and first recorded in 1969 by Gershon Kingsley), maybe it would have been a Meek composition. He would have been able to record it with simply one assistant. Then again Meek would have been a pionieer, this time a pioneer of electro pop.
But as said, the question is useless ...
Careers ...
For the careers of several musicians Joe Meek's death meant the end. It's not possible to trace all of them here - on the one hand there would be too many, on the other hand several acts were non-existing fantasy products. But here are a couple of real biographies:
Heinz Burt (born as Heinz Henry Georg Schwarze in Detmold, Germany, on July 24, 1942) was never able to go on with his career after Meek's death, as much as he tried. In 1972 he played the concert of his life when he shared the stage at London Wembley Stadium with Bo Diddley, Jerry Lee Lewis, Little Richard, Bill Haley and Chuck Berry in front of an audience of 80,000. But unfortunately there were no follow-ups. As a soloist, with the Tornados or Screaming Lord Sutch he barnstormed seaside resorts and nostalgia festivals. He went broke with his own music club in Manchester, took up a day job as a car mechanic at Ford in Dagenham, had increasing alcohol problems, in the 1980s he came down with multiple sclerosis (other sources say amyotrophic lateral sclerosis or Gehrig's disease) and had to be in a wheelchair. It is said that he had no copies of his own records and never tried to obtain them. He was married two times and had a son. In a newspaper article from 2009, his first wife Della commented on Nick Moran's "Telstar" movie. As she says, Heinz "definitely" wasn't gay, he didn't really like Joe Meek (who "manipulated" his career), and he never really wanted to live at 304. It's her secret why he still did it for three years. In Heinz' own words in 1967 at least this sounded different: "Joe Meek made me. He found me working in a shop and made me a star." - After the failure of his second marriage, he spent the last stage of his life with his mother in Hampshire. Heinz Burt passed away on April 7, 2000, at the age of 57 after a stroke. He left 18 Pounds in cash.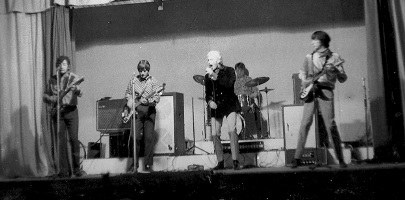 Heinz & The Wild Boys - the last line-up, August 1966 till late 1967: Malvin Van Gelderen, Cliff Franks, Heinz, Trevor Franks and Barry Franks (left to right)
(Photo: Collection Malvin Van Gelderen)

Heinz, mid-1990s
(Photo: unknown)
The city of Eastleigh near Southampton, where he had lived since he was 7, named a street after him: Heinz Burt Close (here) - a dead end street.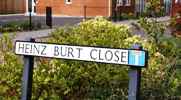 Heinz Burt Close
(Photo: Joe Meek Society)
David Malcolm "Dave" Adams (born 1938 in Saint Helier, Jersey) was one of Joe Meek's most loyal companions from 1957 until Meek's death. As a skilled carpenter he built the studio fixtures at 304, as a musician he was - besides Geoff Goddard - the one who made Meek's adventurous demo singings into usable melodies and chords. For several of Meek's weak-voiced singing artists like Iain Gregory, Andy Cavell or George Chakiris, he laid down so-called "guiding vocals" on the backing tape which they just needed to follow, and sometimes we hear him more clearly than the singers whose names appeared on the label. With his sister Marion "Joy" Adams he formed a vocal duo, first under the name of The Kids, later they were Joy & David, then Joy & Dave. They had an older brother, Brian, called Chick, who also appeared on some Meek productions. Joy Adams concluded her career a short time later for marriage reasons and could be heard on recordings only sporadically after that. Dave Adams tried to start a career as a country singer under the pseudonym Burr Bailey, but the success wasn't too big, besides this it took only a short time till the "Record Mirror" resolved the pseudonym, so Dave lost his interest in this project. But he remained active as a studio musician, temporarily he became a member of Heinz' backing group The Wild Boys. He also did a couple of recordings under the pseudonym Silas Dooley Jr, but because of their strange lyrics they remained unreleased within Meek's lifetime.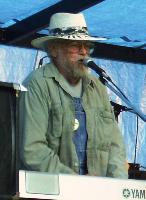 Dave Adams, then and now
(Photos: Collection Dave Adams)
Dave Adams' career as a professional musician ended with Meek's death. With his family he relocated to Buffalo, NY, and became musically active again with his band U.S. Connection, also his daughter Dee Adams is on the scene as a country-rock and jazz singer. A while ago Dave started writing his autobiography, and as he belonged to the few people who probably knew Meek really well, it might have been an interesting read - but he was not allowed to finish it: Dave Adams passed away in March 2016 in his adopted hometown Buffalo.
Glenda Collins (born December 16, 1943) had released three boring 45s for Decca Records before she came to Joe Meek's. He produced eight 45s with her, and it's a pleasure of special kind to hear how this singer gets better and more self-confident with each one of them. She didn't have the caliber of a Dusty Springfield, but she was well able to compete with then popular stars like Petula Clark, Sandie Shaw or Lulu. Some of her songs are simply great pop music; it's hard to comprehend why all her records failed without exception. Glenda Collins was one of the last artists Meek recorded in the end of 1966. There are four half-finished recordings which were planned to be part of an album, and all of them are powerful and electrifying. Glenda is accompanied by The Riot Squad here (more on this band see below), also Ritchie Blackmore plays on one of these recordings. After Meek's death Glenda Collins gave up her career and found herself a job as a secretary. Later she bemoaned this as her biggest mistake - she may be right. She married a rabbi and sang almost exclusively on bar mitzvahs, weddings and other private religious ceremonies. Allegedly in the 1980s she tried a comeback as a cabaret singer, but obviously this failed. Her last sign of life up to now she sent in 1999 when she recorded the tune Avenues And Alleyways for a retro-pop album named "Cult Themes From The Seventies, Vol. 2". A planned tour with this project failed because no live backing band could be found.
David Edward "Screaming Lord" Sutch (born November 10, 1940, in Hampsted, London) had found in Joe Meek without question a truly congenial producer for his pleasurable horror nonsense. On stage he was a classic "limelight hog", he was a virtuoso in playing with the press and the TV, and with adorable persistency he ran again and again as top candidate for his "Official Monster Raving Loony Party" for the British House of Commons and the European Parliament ("Vote for insanity - you know it makes sense!"). Besides this he had a share on the U.S. amp manufacturer Marshall. But there was a dark side too. For his whole life Sutch suffered from depressions, he was never able to detach himself from his mother and couldn't stop his compulsive hoarding of all kinds of rummage. And musically there was no development. The few recordings he did after Meek's death are more or less forgettable, obviously he was also unable to keep his stage show up to date. Moreover, in the 1980s he got into trouble with parts of the English feminist movement for his tune Jack The Ripper: For incomprehensable reasons several women took this song - which still was the climax of his stage show - at face value and bristled at the supposed "homage". Repeatedly this lead to abandoned performances, hubbubs and physical attacks on Sutch. His last live performances in the 1990s - some of them are available on DVD - leave a mark of neglect and are more saddening than entertaining. In the end His Lordship didn't see any other way but to hang himself in his littered-up house - probably just in time not to have to end up in "I'm A Celebrity - Get Me Out Of Here" or similar TV shows. Even "Tagesthemen", Germany's most serious TV news magazine, had a correspondent report on his death on June 16, 1999. Screaming Lord Sutch was survived by his girlfriend and his son.
Geoff Goddard's life after Joe Meek's death was a little bit strange. For a short time he teamed up with Cliff Richard; his song My Head Goes Around was released on Richard's album "Tracks And Traces" in 1969, but it remained his last published tune. Goddard didn't get on with Richard's producer, and in 1972 he completely quit his career as a musician. He went back to Reading, his native city, and found a day job there at the university: as a cleaner in the canteen. This decision may be hard to get, but he did it consciously and by choice; nobody ever heard him complaining about his situation. He was not really cagey about his former life, he was happy if somebody knew him or remembered his songs, but he never actively wanted to have to deal again with the professional music scene. At least, unlike several other Meek artists, he never fell into poverty: His composition Jungle Fever sold several million copies all over the world as flip side of the Telstar 45. From time to time he received further royalties, not least from his composition on the Cliff Richard album. Also Just Like Eddie brought him money again when the tune was spoofed for a TV commercial: Just Like Shreddies. And in 1985 his composition Johnny Remember Me was covered by Marc Almond & Bronski Beat, sold again 300,000 copies and reached the Top 10 - and much to his surprise, Goddard, who had given up following the pop charts long ago, received a platinum record. Geoff Goddard passed away from heart failure on Mai 15, 2000, in Reading at the age of 62. (A brief portrait and a list of his compositions is to be found here.)
The Riot Squad was one of the several underestimated bands from Joe Meek's kitchen that never made it to a breakthrough although they had all the potential to make hits. To their first line-up belonged singer Graham Bonney (= Graham Bradley) as well as drummer John "Mitch" Mitchell. There's no need to say anything about the later career of the latter; the singer Graham Bonney may be worth mentioning because he later started a successful career as a schlager singer in Germany. But both had left already when at the end of 1965 Joe Meek signed the band. Meek let them widely do their own songs and granted them obviously much space for their development without meshing in. The band's sound was something between Dave Dee, Dozy, Beaky, Mick & Tich and The Spencer Davis Group and clearly among the best things Meek produced during his last year. Especially I Take It That We're Through and It's Never Too Late To Forgive are showing that Meek hadn't lost the contact to the current music landscape, and it's a mystery why both 45s didn't take off. After Meek's death The Riot Squad made their living by backing up several other singers on stage. They changed their line-up in one go now; among others David Bowie was a member for about eight months. But The Riot Squad didn't make any further records, in 1968 finally the band broke off.
A couple of other musicians from Meek's roster were able to escape from unsuccessfulness by switching to another job:
Don Charles (= Walter Scuffham, born December 10, 1933) was probably one of the most gifted singer Meek ever signed. His voice predestined him for soft ballads, but the breakthrough persistently failed to appear. So in 1964 he founded his own music production company, later he teamed up with entertainer Rolf Harris to start a night club in Malta. After the crash of the club he became a successful used-car dealer. Don Charles was married four times. He died on December 4, 2005, from the consequences of a stroke.
John Leyton (born February 17, 1939 in Frinton-on-Sea, Essex) became Britain's best-paid singer for a while after Johnny Remember Me and Wild Wind topped the charts. He recorded a couple of further 45s, from 1962 again under the formal direction of Robert Stigwood who had discovered him originally, but in fact it remained RGM Sound doing the music productions. When in 1963 his success slightly began to decrease, his management tried to make him "beat music compatible" by giving him a backing band named The LeRoys, but that didn't work. Leyton was prudent enough to see that, and so he went back to his original field of work: acting. He never became a real big star, but as a supporting act he appeared on screen with the likes of Frank Sinatra, Steve McQueen, Mia Farrow, James Garner and others, and he was well able to keep his name known in the UK down to the present day. From time to time he still sings on stage, but that's not meant to be taken too serious.
Michael "Mike" Preston (= Jack Davies, born May 14, 1938 in Hackney, London) initially was a boxer. Later, after a couple of fruitless record releases, he switched over to acting - with better success. He played in "Mad Max 2", "Metalstorm - The Destruction Of Jared-Syn" and other movies as well as in the TV series "Fame" and "Highlander".
Some other musicians remained successful in the music scene after Meek's death:
Carter & Lewis built up The Ivy League, who again changed into The Flowerpot Men. In 1967 this band became a classic "one hit wonder" with Let's Go To San Francisco. John Carter (= John Shakespeare, born in Birmingham on October 20, 1942) sings the lead vocals in the smash hit Winchester Cathedral by the New Vaudeville Band (1966), but as he didn't like to tour, he reduced his activities to songwriting only. Some big hits he penned are Knock Knock Who's There? by Mary Hopkin (1970), Dreams Are Ten A Penny by Kincade (1973) and Beach Baby by First Class (1974). Under his real name he wrote film soundtracks and several advertising jingles. Ken Lewis (= Kenneth James Hawker, born in Birmingham on December 3, 1942) went on writing songs with John Carter for a while, among others Is It True? for Brenda Lee and the U.S. #1 hit Can't You Hear My Heartbeat for Herman's Hermits (1965). He later came down with depressions and retired into private life in 1971.
Houston Wells (= Andrew Smith, officially born in 1938 in Northumberland, but in fact 1932 or 1933 is more realistic) was Meek's cowboy from North England. He left the school at the age of 14 and jobbed as a woodcutter for three years, then he got hired by the merchant navy and stranded in Vancouver, Canada. There he discovered country & western music and fell in love with it. His pseudonym is lifted from the city of Houston, TX, and from Wells Fargo, the first stagecoach line in the U.S. during the big gold rush. A year later he went back to England because his parents were in need for care. He worked as a truck driver and barnstormed with The Coasters (not identical with the U.S. band of the same name). Music publishing house Southern Music recommended him to Joe Meek who had a secret love for country music. He signed Wells but was not interested in his band. Most of Wells' recordings with Meek are mainstream country and well worth a listen; he had a good voice and knew how to do the typical country intonation. Only The Heartaches even reached #22 in the UK charts. Unfortunately he never had a follow-up there, even though Meek produced a complete album with him. The song North Wind from his second 45 (December 1962) is definitely one of the best tracks Meek ever produced - a death song with everything that can be called "typically Meek", and it was one of Meek's most annoying misjudgments to put this tune on the flip side. In 1964, Wells finally shut down his band The Marksmen, the members went back to their original day jobs. Meek now backed him up with his in-house band The Outlaws, "Big" Jim Sullivan and several other studio musicians, but no success turned up anymore; a couple of recordings from this time remained even unreleased. Houston Wells and his family moved to Ireland where he worked with The Masters and later with The Premier Aces. In 1968 he founded The Trident Showband; by constantly touring the clubs he finally managed again to enter the (Irish) charts. - In 1974, Wells emigrated to New Zealand. He became well-known there in the country scene, also his sons became musicians. Houston Wells passed away after a long battle with cancer in January 2014.
Also Meek's vocally Buddy Holly reincarnation Mike Berry (= Michael Hubert Bourne, born September 24, 1942 in Northampton) is still today an active musician. One of his specialties was imitating voices and vocal styles; we are allowed to assume that several of Meek's "recording artists" are in fact him. In the mid-1970s some radio pirates in Belgium and the Netherlands rediscovered Mike Berry and put him back on the map there with a couple of hits. With a remake of his old Meek hit Tribute To Buddy Holly he reached #2 in the Netherlands in October 1975. In the late seventies the Polydor label signed him; in 1979 he attracted some attention when he recorded the only composition Buddy Holly had left and not recorded himself: Stay Close To Me. Buddy probably would have been satisfied with the result. Besides this, Mike Berry also worked as actor, best known for his appearence in the TV series "Are You Being Served?". In 1980 he had two further hits in the UK: The Sunshine Of Your Smile (#9) and If I Could Only Make You Care (#37). In 2004, finally one of Mike Berry's big pipe dreams became true: In Nashville he had the opportunity to record a CD with Buddy Holly's original Crickets. Currently Mike Berry is on the mend after being seriously ill.
There's no need to describe the careers of Ritchie Blackmore, Jimmy Page and Mitch Mitchell († November 12, 2008).
Tornados' drummer Clemente Anselmo "Clem" Cattini (born August 28, 1937 in London) rejected the offer to get into a group project in which also Jimmy Page was playing. Later that band became known under the name of Led Zeppelin. But probably he was right - it's really hard to imagine him as a hard rocker. Instead of this he became a often and gladly booked session musician. He's drumming on more than 150 pop music tracks, among them more than 40 #1 hits, a.o. by T. Rex, Dusty Springfield, Donovan, Barry Ryan, Tony Christie, The Bay City Rollers, The Walker Bothers, The Kinks and Hot Chocolate. He also can be heard on several British tunes for the Eurovision Song Contest.
Ted Fletcher worked with Joe Meek as a session singer and member of The Cameos from 1963 to 1965. Later he founded a company which still today manufactures equalizers, compressors and other electronic studio devices. Meek had nothing to do with this company, but its name is meant to be a memento: Joemeek Ltd.
And Meek's business partners?
In 1966, his Triumph Records partner William H. Barrington-Coupe (born 1931) went into prison for tax fraud for one year. Later he returned to the record industry: He bought up several commercially failed classical recordings and re-released them under fantasy orchestra-, conductor- and interpret names on his budget label "Concert Artists". (Still today this is not an unknown practice in the classical recording business.) In 2007 his name went through the press when a large-scale fraud was discovered: His wife, the pianist Joyce Hatto who suffered from cancer, allegedly had recorded around 100 CDs within ten years, but in fact it was only one CD she actually had played herself. For the other ones Barrington-Coupe had combined recordings by 96 pianists and manipulated them by computer in a way that the original pianists couldn't be recognized anymore. (Probably Meek would have taken mischievous pleasure in this music miracle ...)
Meek's business partner Wilfred Alonzo "Major" Banks (born September 24, 1913 in Barrow, Suffolk), after leaving RGM Sound Ltd., remained active as entrepreneur and consultant in several branches of trade; his last company was called Metalcraft Ltd. "Major" Banks passed away on May 29, 1983 in Penryn, Cornwall.
304 Holloway Road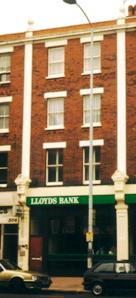 1990
2006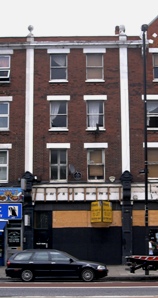 2008
2009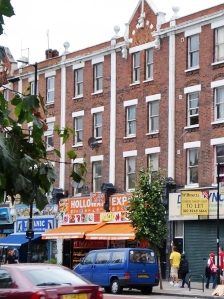 August 2010
304 Holloway Road
(Photos: Jörg Richard)
Today, Holloway Road looks a little bit more friendly than in the 1960s. The street has been rebuilt now, but the number of vacant apartments and shops is still alarming. Albert H. Shenton's leather goods shop was closed in 1974 when its owner passed away. For a while a bank moved in, after that a bike shop resided at the place till it moved to a neighboring house in 2007. Meek's rooms in the upper three floors were a private apartment for several years. Now they are split into two apartments (304A and B) and have been used as lodging for asylum seekers. Then the house was completely empty for quite some time and began to rot. In 2009 a new convenience shop has moved in, but the upper floors still seem to be vacant. If you want to check out the environment: Here is the Google Street View.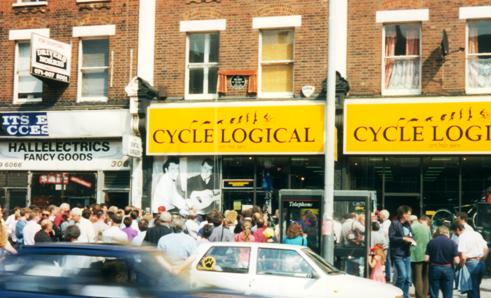 304 Holloway Road, revealing of the Joe Meek plaque in 1993
(Photos: Jörg Richard)
In a slightly absurd height, overshadowed by a satellite dish (!), there's a small plaque for the "Telstar Man" since August 29, 1993, contributed by the Joe Meek Society. As the bike shop people used to say, always on February 3rd Joe can be heard trampling through the house.
The song North Wind sung by Houston Wells (1962) has a line Meek could have written for his own tombstone:
TELL ME I'M FORGIVEN NOW
DON'T SEND MY SOUL TO HELL!
(Photo: findagrave)
Sources for all 13 chapters:
Bevan, Nathan: Tom Jones' former bandmate recalls gun terror from legendary producer. In: WalesOnline.co.uk, July 12, 2009
Boyd, Joe: White Bicycles - Making Music in the 1960s. London 2006
Cleveland, Barry: Creative Music Production - Joe Meek's Bold Techniques. Vallejo, CA 2001
Daily Echo, Hampshire, probably June 20 or 21, 2009: Heinz - his wife's point of view
Daily Mirror, February 4, 1967
Daily Mirror, February 1967 (exact date unknown)
Davies, Russell: Holloway Dreams - The Joe Meek Story. BBC Radio 2; February 6, 13 and 20, 2007
Ehrig, Joachim Heinz (Eroc): The Spirit Of Joe Meek (or: How He Would Have Done It). In: CD booklet "Telstar - The Complete Tornados", Repertoire Records 1998
Emerick, Geoff & Massey, Howard: Here, There And Everywhere - My Life recording the Music of the Beatles. New York 2006
Emerson, Ken: Always Magic in the Air - The Bomp and Brilliance of the Brill Building Era. New York 2005
Evening Standard, February 3, 1967
Greve, Bettina: Sternenhimmel. Polydor - Die Chronik einer deutschen Schallplattenmarke. Höfen 2001
Hartig, Heinz-Günther: Interview with Dave Dee, in: Rock 'n' Roll Musikmagazin 1/2009
Hentschel, Joachim: The Beatles feat. Tony Sheridan; CD-Booklet, Polydor 06024982132-3; Hamburg 2004
Joe Meek Society Newsletter (several editions)
Lebrecht, Norman: The Life And Death Of Classical Music, feat. the 100 Best and 20 Worst Recordings Ever Made. New York 2007
Lewens, Alan: The Very Strange Story Of The Legendary Joe Meek. "Arena", BBC 1991
Matheja, Bernd: 1000 Nadelstiche - Amerikaner & Briten singen deutsch 1955-1975. 3rd edition, Hambergen 2007
McCready, John: Joe Meek. For a long time online here, but seems to be gone now.
Milner, Greg: Perfecting Sound Forever - An Aural History Of Recorded Music. New York 2009
Napier-Bell, Simon: Black Vinyl, White Powder. London 2002
New Musical Express, February 1967
Record Collector 69, Mai 1985, p 24-30: The Great Producers: The RGM Sound Of Joe Meek, Part 1
Record Collector 70, Juni 1985, p 34-40: The Great Producers: The RGM Sound Of Joe Meek, Part 2
Record Collector 134, Oktober 1990, p 26-29: Joe Meek
Record Collector 186, Februar 1995, p 70-75: TheTriumph Label
Record Collector 219, November 1997, p 50-54: The Joe Meek Legacy
Record Collector 333, Februar 2007, p 28-37: Joe Meek - The Phil Spector Of Brit Pop, Part 1
Record Collector 333, Februar 2007, p 38-39: John Leyton - Johnny, Remember Me?
Record Collector 334, März 2007, p 68-72: Joe Meek, Part 2 - The Freakbeat Years
Record Collector 355, November 2008, p 26-28: Joe Meek and the legendary Tea Chest Tapes
Repsch, John: The Legendary Joe Meek - The Telstar Man. London 2000
Ribowsky, Mark: He's A Rebel - Phil Spector. New York 2000
Sharpe, Graham: The Man Who Was Screaming Lord Sutch. London 2005
Singer, Mark: Fantasia for Piano - Joyce Hatto's incredible career. In: The New Yorker, September 17, 2007
Stiftung Haus der Geschichte der Bundesrepublik Deutschland (Hg.): Melodien für Millionen - Das Jahrhundert des Schlagers. Bielefeld/Leipzig 2008
Thunderbolt (Joe Meek Society magazine), several editions
Valentine, Penny & Wickham, Vicky: Dusty Springfield - Dancing With Demons. London 2000
Voss, Werner: Der Satellit aus der 4-Spur-Bandmaschine - Joe Meek und sein R.G.M.-Sound. In: Rock Session 2; p 254-268; Reinbek 1978
Walter, Klaus: Joe Meek. In: Rolling Stone (Germany), February 2007, p 80-85
Warhol, Andy & Hackett, Pat: Popism - The Warhol Sixties. Orlando, FL 1980
Wilson, John: Clem Cattini, Britain's record chart topper, keeps that backbeat going strong at 72. In: The Guardian, March 28, 2010
Wunnicke, Christine: Leben, Tod und Mysterien des fabelhaften Joe Meek. Bavarian Radio; May 10, 2002
Zahradnik, Andy: Ariola, oho, hier bin ich - 1958-2008: Ein Reisetagebuch. Munich 2008
And further:
Information by Garth Banks, Harald Bluschke, "Big Bopper", Roger Bruton, Clive Bubley, Robbie Duke a.k.a. Patrick Pink, Felix Hoffmann, Rob Humphreys, Robert W. Huxley, Thomas Meyer, Gerd Miller, Dieter Moll, Kim Pavey, Jörg Richard, Peter Robinson, Robb Shenton, Malvin Van Gelderen
Collection Harald Bluschke and Rock'n'Roll-Schallplattenforum
Chronologie des compositeurs et de principaux écrivains artistes savants librettistes
Google Maps Street View
several booklets of Meek CDs

california-ballroom.info
findagrave.com
joemeek.com
measuringworth.com
meeksville.com
mpg.org.uk
myspace.com/robbieladuke2

last update: March 21, 2016