JOE MEEK
---
Joe Meek - a Portrait
Part 7: The cases Telstar, Heinz, Madras Place, Howard/Blaikley
(

hier!)
The Telstar case
A couple of months after Telstar had become a smash hit, the French composer Jean Ledrut (1903-1982) supposed that Meek's bestseller had four bars which were lifted from a film score he had written for the movie "Austerlitz", directed by Abel Gance (1960). So Ledrut filed a plagiarism lawsuit against Meek in March 1963. Meek didn't know the movie and, as being producer of a world-wide hit, apparently saw himself as invulnerable and decided to ignore the letter from Ledrut's attorney.
He had to pay dearly for this. The lawsuit started in March 1963 in France, grew into a clash with expertises and counter expertises and took five years. During this time the British Copyright Protection Society - as done automatically in cases like this - froze the still accumulating Telstar royalties on a blocked account.
Finally the judges didn't impute any intention of plagiarism to Meek, but they verdicted that indeed there were parallels between Telstar and Ledrut's film music, so Ledrut obtained 8500 Pounds. (Today that would be equivalent of circa 215,000 Pound, 235,000 Euros or 350,000 US Dollars.)
Unfortunately, Meek wasn't on this earth anymore when the verdict was delivered. The royalties from the blocked account went to his heirs. But nobody gained wealth with this money. Only for Ivy Music, the publisher of the composition Telstar, a pie fell from heaven, but most of the remaining money had to be used to make good Meek's tax and rent dues, overdrawn bank accounts and other debts.
Sometimes voices from the Meek fan community can be heard, trying to put the blame for Meek's ruin directly or indirectly on Ledrut, also a Wikipedia article about Telstar suggests this version. But for this lawsuit nobody but Meek himself is to blame. In all probability he didn't know the movie, and so the resemblance between Ledrut's "Marche d'Austerlitz" and Meek's Telstar was surely unintended. But it is evident anyways. In such a situation a level-headed lawyer would recommend to go for a settlement out of court. Had Meek done this, the result would have been probably more or less the same than what later the verdict said - but the whole affair had been off the stove at latest in 1964.
It's simply a fairytale that the blocked Telstar royalties ruined Meek. Even without Telstar RGM Sound Limited was a highly profitable company in the years 1962 to 1964; in 1963 alone Meek had no less than eleven Top 50 hits in the UK, in 1964 he placed a world hit with Have I The Right. Meek went broke in 1965, and as to be shown later, there was nobody but Meek himself to put the blame on.
By the way, the musicians - including Geoff Goddard - never participated in the royalties. As usual at that time, they got paid only for the recording sessions; usually amounts around 3 Pounds. The only one who really made a profit from Telstar was just Geoff Goddard - indirectly: He composed the flip side, Jungle Fever, and logically, this track sold as many copies as the A side. As his authorship had never been in question, he received his royalties punctually and completely.
There's a second reason that makes the verdict of the French court interesting: In the reasons given for the verdict, the judges referred not only to the pure melody, they emphasized on the sound and the technical editing of the recording as well: All this had to be seen in all; not only the melody made the success of the record. This was the first time the work of a record producer was noted as a kind of creative performance.
The Heinz case
More and more problems piled up, feeding Meek's paranoia: the uppers and downers, his inability to delegate even minor tasks, the grueling Telstar lawsuit. And there was one more problem - a special one: his star-crossed love to Heinz Burt (July 24, 1942 - April 7, 2000), bass guitarist of The Tornados. Meek did not only fall in love with him, he also wanted to establish him as a solo rock star. He wanted to put an answer to the increasing success of the Merseybeat, and that should be Heinz (son of a German father, so this was his real name). According to his bandmates and his later wife, Della, Heinz wasn't gay, but he lived with Meek at 304 for nearly three years. In an eighties BBC interview he denied any kind of sexual relationship to Meek. One may believe this or not.
Meek founded an independent company for Heinz' marketing. The money for the "Heinz Burt Ltd." he took from the profit share of "Major" Banks, but without giving him participation on this new company. When Banks finally discovered this (and of course he did), all hell was let loose - to put it mildly.
Meek had seen the movie "The Village Of The Damned" (GB 1960) with ultra-intelligent platinum blonde extraterrestrial children terrorizing a village, and immediately he prescribed this hair color to Heinz. Meek rehearsed Heinz a stage show which should stylize him as "wild guy". Meek's lurid promotion touted him as "blond bombshell" and "truly one of the wildest men of pop". Heinz put up with everything, but it didn't help: Heinz was not what he was proposed to be. In fact, he was a friendly, phlegmatic "boy next door" and able to lose his way in a phone booth. His abilities as a guitarist and bass guitarist were OK for domestic use. Tornados' drummer Clem Cattini even claims that Heinz was "hardly able to hold his instrument", but seriously, this seems to be rather exaggerated. If Heinz had really been such a bad bass player, it would be hard to understand why impresario Larry Parnes (see chapter 5) insisted in keeping the Tornados backing up his star Billy Fury on stage. However, it's for sure that Heinz was anything but a good singer. Studio technology made his voice sounding quite well on records, but on stage his singing was short-winded and flat. Some say Heinz had a certain pantomimic talent, but all in all his appearence on stage was simply not impressing. And when he jumped up the piano during his show, it came across even more daffy.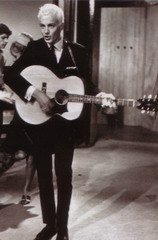 Heinz, 1963
(Photo: David Wedgebury)
Heinz first 45, Dreams Do Come True, sold 400 copies and yielded 15 Pounds. As Meek already had invested around 10000 Pounds into the Heinz project at that time, "Major" Banks became even more uncomfortable than he was already - he saw Heinz as a complete misinvestment. (Again, the comparison between then and now might be helpful to show the dimension: Today the 10000 Pounds from 1963 would be equivalent of circa 345,000 Pound, 380,000 Euros or 560,000 US-Dollars.)
However, in August 1963 Heinz had a veritable hit after all, written by Geoff Goddard: Just Like Eddie - a hommage to singer Eddie Cochran who had been killed in an accident in 1960, and seen this way, it was another death song in the tradition of Tribute To Buddy Holly. But Heinz didn't manage to come up with a hunky-dory follow up. He couldn't be called a "one hit wonder", he had a couple of minor hits, he had a part in a music comedy movie ("Live It Up", GB 1963, more info here) and a cameo appearence in a TV series - so much. Until 1966 Meek produced four further 45s and an album with Heinz, but it didn't work out, and because of this, also the relationship between Meek and Heinz went downhill (more on this to follow later).
Madras Place
In November 1963, Meek got busted for a couple of hours because of a nightly sex adventure in a public lavatory at Madras Place - nothing very special with him in principle, he could be seen there on and off. The "crime" he was accused for was called "cottaging", based on the cottage house design of the toilet buildings in the parks of London. With a couple of co-sinners he had to walk for half a mile in single file to Caledonian Road police station house. He was registered as a homosexual person, a report was made ("persistently importuning for an immoral purpose") and he was fined 15 Pounds. He could get over the penalty, of course, much worse was a newspaper note resulting from the police report. It was only a small note, but big enough to lead to a couple of attempted extortions. Half-baked teenagers ambushed him, threatening to "confess" to their parents what Meek allegedly did to them or wanted them to do, and more than once he got beaten up in some dark by-roads. Maybe he knew who did it, maybe not. If he knew: For a registered gay man the police was no address to go anymore.
Geoff Goddard saw this incident as turning point: "From now on everything went wrong", he stated in an 1991 BBC interview. It's open to dispute whether this was really the trigger for the now beginning downslide. This we know for sure: From now on, Meek's suspiciousness was going to be more and more grotesque, even in case of friends and confidants. Outside the house he could no longer be spotted without sunglasses, at the door he installed an intercom system, nobody could enter 304 without being checked.
The Howard/Blaikley case
The project Heinz didn't work. Everybody tried to break the apparent to Meek: His "Golden Boy" was simply unqualified for a career as a rock musician, and there was no hope that this could ever change. But Meek didn't want to hear that.
However, in summer 1964 Meek managed to produce a world wide smash hit again: Have I The Right by The Honeycombs. This band had been recommended to him by songwriter duo Ken Howard and Alan Blaikley who also had written this tune. Meek was especially fascinated by drummer Ann "Honey" Lantree - a female drummer of course was a great subject for promotion.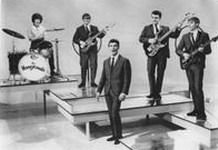 The Honeycombs, 1964
(Photo: unknown)
Unfortunately the whole matter turned out to be ill-fated in every way. Geoff Goddard filed a lawsuit against Howard and Blaikley for plagiarism. He was sure that these two guys had lifted Have I The Right from his own composition Give Me The Chance (regrettably it's not possible to decide here whether he was right or wrong on this; see here). Meek , however, wanted to keep Howard and Blaikley under all circumstances, so he made clear that he would take sides with them at court. Goddard then withdrew the action, but didn't even talk to Meek after that anymore.
A few weeks later, Howard and Blaikley introduced two bands to Meek they also had discovered: The Preachers and a combo named Dave Dee & The Bostons. Meek judged both bands as not promising; a special problem with the latter was that they were not willing or able to go with his speed-up recording technique. In a 2007 interview with Heinz-Günther Hartig, Dave Dee (= David John Harman, December 17, 1941 - January 9, 2009) remembers the session at Meek's:
Dave Dee: He threw us out of his studio. He didn't like Tich. Our managers Howard and Blaikley just had a #1 hit with Have I The Right by The Honeycombs. We were the second band they managed, we were still called Dave Dee & The Bostons then. They sent us to Meek to lay down the song Strange Things Happen. We learned the tune and traveled from Salisbury to Islington, to Holloway Road where upstairs was his studio. We schlepped all our stuff up there. He started recording us and wanted us to play very slowly. We said: "We can't play it this way." He nearly went berserk and screamed: "This is the way I make my records!" What he did was this: He bands had to play slowly, and he would speed up the tape later. That's how he got the Joe Meek sound. But we were a live band and couldn't play a song without this live feeling. Finally, I'm quite happy that we didn't do that. It was a little bit like Have I The Right, very similar to that song.
Hartig: So the song became true?
Dave Dee: Strange Things Happen, yeah. Finally he bunged a trayful of coffee cups into the room and went upstairs. Then he sent his little boy [Meek's studio assistant] down to us. He said: "Mr. Meek won't do any further recordings today. You can pack your things up and go home!"

Dave Dee, circa 2007
(Photo: Rock 'n' Roll Musikmagazin)
Ken Howard and Alan Blaikley immediately left Meek after this failed recording session and went into the producing business themselves. They put the band into extremly multicolored clothes and named them slightly lunatic "Dave Dee, Dozy, Beaky, Mick and Tich". Under the direction of Howard and Blaikley, Dave Dee & Co delivered a good sequence of bestsellers from 1965 to 1969, starting with You Make It Move; the follow-ups Hold Tight, Bend It, Save Me and The Legend Of Xanadu can be heard still today on many oldie radio stations; the latter became a #1 hit in England.
The Preachers, by the way, later became known as The Herd. Compared to Dave Dee & Co they were not really chart toppers but a successful act anyways. With this band the guitarist Peter Frampton started his career which led him to world-wide success in the 1970s.
Ken Howard and Alan Blaikley became one of the most successful songwriting and producing team of British pop history up to the late seventies. And even with flattened ears it's easy to hear from which teacher they got their production skills.
---
Sources see chapter 13
---
[Home] [Joe Meek Portrait] [Complete Recordings] [Meek Compositions] [Goddard Compositions] [Triumph Story] [CD Discography] [Noten/Scores] [Telstar Cover Versions] [Meek in Germany] [Literature, Documentaries etc.] [Miscellaneous] [Links] [About] [Contact] [Sitemap]
---
© 2006 Jan Reetze
last update: May 1, 2013