JOE MEEK
---
Joe Meek records in Germany
Part 4: Cover versions
(

hier!)
Cover versions of Joe Meek productions, released on German labels. No direct contribution of Joe Meek himself in any of these recordings (except Alle Mädchen wollen küssen/Be Mine; more info at the end of this page).
| | | | | | |
| --- | --- | --- | --- | --- | --- |
| Interpret | Titel | Jahr | Label | Bestell- Nr | Track |
---
| | | | | | |
| --- | --- | --- | --- | --- | --- |
| Apollo 100 | Telstar | 73-04 | BASF | 05 19111-1 | A |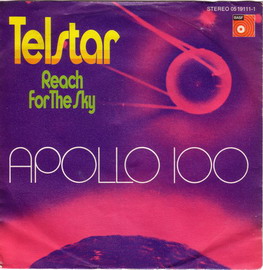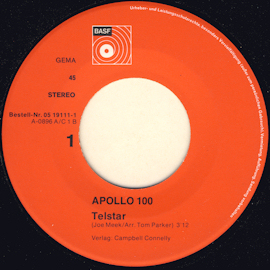 Apollo 100 was a short-lived classic rock project initiated by the British composer and arranger Tom Parker. The Bach adaption Joy remained his only hit, followed by the much less successful Mendelssohn's Fourth. This unimaginative Telstar cover was Parker's third 45 and flopped completely. The general impression is fittingly rounded off by the sleeve which doesn't show "Telstar" but it's Soviet workmate "Sputnik". - By the way, the drummer playing in Parker's studio band was Clem Cattini who already drummed on the original Telstar version from 1962.
| | | | | | |
| --- | --- | --- | --- | --- | --- |
| Ashton, Bud & His Group | Robot | 63-?? | Ariola | 10308 | B |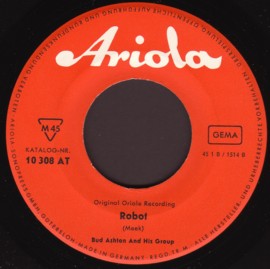 German edition licensed by Oriole Records.
The pseudonym Bud Ashton is not related to a particular musician, it's the name of a changing group of session musicians who were booked to do instrumental cover versions.

More info on budget labels on this page read here.
| | | | | | |
| --- | --- | --- | --- | --- | --- |
| Beat Buddies, The | A Tribute To Buddy Holly | 65/66-?? | Hansa | 18528 AT | B |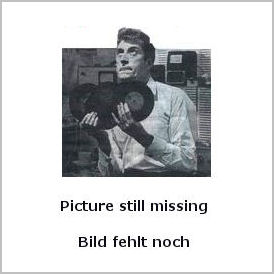 This might be the 1960s Dutch quartet that recorded several further 45s on Delta and Philips Records.
If so, then the band's line-up would have been Thijs de Graaf - bass, Henny van Pinksteren - drums, Wolfgang Noske - guitar and Charles van de Pol - vocals.
| | | | | | |
| --- | --- | --- | --- | --- | --- |
| Berry, Mike | Tribute To Buddy Holly | 75-?? | Hansa | 16443 AT | A |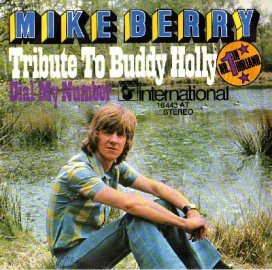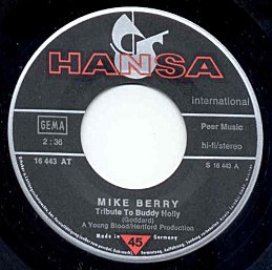 In the mid-1970s, Mike Berry got rediscovered by some Dutch-Belgian radio pirates, which led to a couple of releases on the Dutch label Pink Elephant Records. One of them was this remake of his own bestseller from 1961. This version is arranged with strings, besides this Berry allegedly obtained the blessings of Holly's widow. In October 1975 it peaked at #2 of the Dutch charts. In Germany this version was released on Hansa Records. The cover wrongly states "Number 1 in Holland", but it didn't help, in Germany the remake failed completely.
| | | | | | |
| --- | --- | --- | --- | --- | --- |
| Felgen, Camillo | Irgendwann erwacht ein neuer Tag (Telstar) | 62-?? | Electrola | E 22328 | A |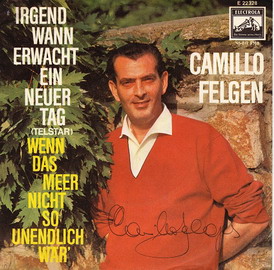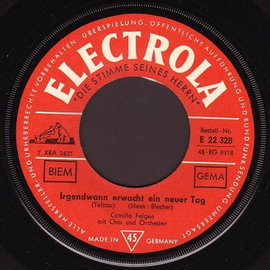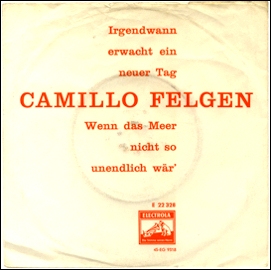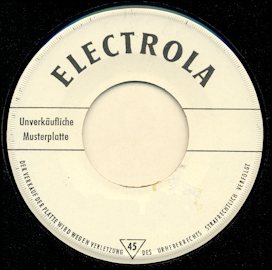 The Telstar melody has a couple of intervals which remind from far to Zarah Leander's Ich weiß, es wird einmal ein Wunder gescheh'n from 1942. Maybe these intervals were to blame that the German lyrics which occurred to Carl Ulrich Blecher are in no way inferior to that old "stay the course" song. Or maybe the reason is just that Mr Blecher in real life was a dentist. Felgen's melodramatic singing does its bits to make the song more or less unbearable for today's ears.
Felgen recorded more than one version of this song, probably for different albums and maybe for TV shows. He also recorded a remake in the eighties which is not better than the original from 1962. The respective sub-arrangers were Jože Privšek, Herbert Gabriel, K. Becker and Erich Becht. It's not possible anymore to find out whose arrangement has been used for this 45.
Camillo Felgen (= Camille Jean Nicolas Felgen), born November 17, 1920 in Tétange, Luxembourg, was a skilled actor and opera singer (baritone). After being a teacher for a while he became newspaper reporter, in 1946 he accepted a job as newsreader at Radio Luxembourg. In 1958 he became chief host of the German program; he is also said to be the inventor of the slogan "Die vier fröhlichen Wellen von Radio Luxemburg" ("the four merry waves of Radio Luxembourg"), referring to the station's four frequencies. His first 45 was released in 1953. Besides this, Felgen was very active as a schlager lyricist under the pseudonyms "Jean Nicolas" and "Lee Montague"; among others he provided the German lyrics for the Beatles songs Komm, gib mir deine Hand (I Want To Hold Your Hand) and Sie liebt dich (She Loves You). Between 1965 and 1973 he hosted the German edition of Eurovision's soft soap TV olympics "Spiel ohne Grenzen" ("Jeux sans frontiers", in the UK known as "It's A Knockout" or "Games Without Frontiers"). In 1987 he finally retired from all media business and ran with his wife a boutique for wedding and ball dresses. Camillo Felgen passed away on July 16, 2005, in Esch-sur-Alzette, Luxembourg.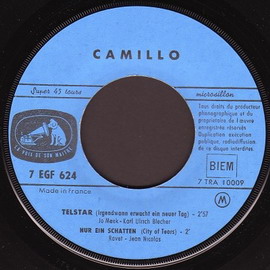 In 1963 Felgen's German Telstar version has also been released in France on La Voix de Son Maitre 7EGF 624 A.
| | | | | | |
| --- | --- | --- | --- | --- | --- |
| Herold, Ted | Tribute To Buddy Holly | 88-?? | AZ | HM 5064 | A |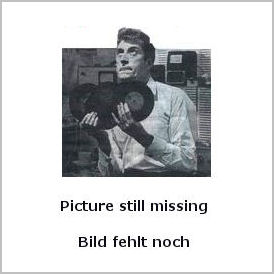 Ted Herold (= Harald Schubring) needs no introduction within the German-speaking countries. There he is a well-known rock 'n' roller, singing mostly in German language. Producers of this record are Mike Gibson and Joe Hamborn (the latter's real name is Helmut Müller; he's the owner of the record company).
| | | | | | |
| --- | --- | --- | --- | --- | --- |
| Leclerc, Fud | Johnny, vergiß mich nie! (Johnny Remember Me) | 62-?? | Polydor | 24569 | B |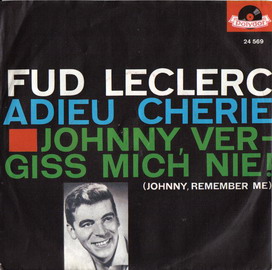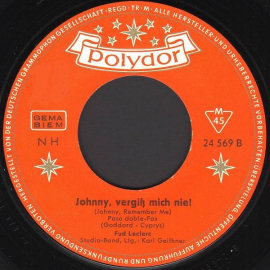 The German version of Geoff Goddard's top composition Johnny Remember Me; the German lyrics were provided by Werner Cyprys (he became prominent with his ensemble Friedel Hensch & die Cyprys that released tongue-in-cheek schlager classics like Das alte Försterhaus or Der Mond von Wanne-Eickel).
Fud Leclerc was a Belgian singer with the real name Fernand Urbain Dominique (= F. U. D.) Leclercq. Between 1956 and 1962 he competed four times fruitlessly for his country at the "Grand Prix Eurovision de la Chanson" (as the "Eurovision Song Contest" was called at that time). For a short time he worked as an actor, gigged later as pianist with Juliette Gréco, and finally became a building contractor. Fud Leclerc passed away at the age of 86 on September 20, 2010, in Brussels.
| | | | | | |
| --- | --- | --- | --- | --- | --- |
| Paris, John | Zwei gold'ne Ringe (Put A Ring On Her Finger) | 61-?? | Philips | 345104 PF | A |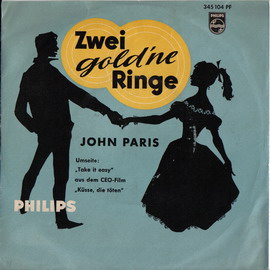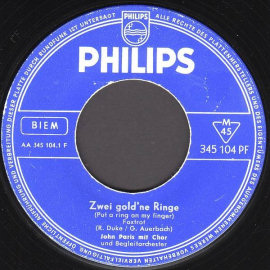 John Paris (born April 12, 1914) was an academical-skilled jazz singer from Liverpool. For several years he worked as an electrical engineer in Argentina, in 1943 he was discovered as a recording artist in the U.S. In 1953, after long travels and touring, he finally stranded in Frankfurt. He became a host at Radio Frankfurt and recorded several tunes he didn't like, especially because of his (unobstrusive) accent he usually was expected to make a fool of himself (the grammatically wrong Darling, ich dich lieben so is one example - apparently this kind of stuff was seen as funny at that time, there were several records on this humorous level; best known probably Gus Backus' also grammatically wrong Bohnen in die Ohren). In 1958, Paris entered the preliminaries of the Grand Prix Eurovision de la Chanson, but had no success. In the sixties he started a bar named "Pferdestall" ("horse stable") in the Gravenbruch neighborhood of Neu-Isenburg near Frankfurt; CBS Records used this name for an LP ("Rendezvous mit John Paris im Pferdestall"). He recorded a couple of religious songs for the budget label Bella-Musica (Jerusalem; Einer weiß, woher wir kommen; Dank, Herr), then started "John's Place" in Frankfurt, a bar and restaurant which he ran for the rest of his life. All in all, John Paris made more than 100 records. He died in Frankfurt in 1979.
The German lyrics for Joe Meek's composition Put A Ring On Her Finger wrote Gustav Auerbach. Further info on the song see the following paragraph.

John Paris
| | | | | | |
| --- | --- | --- | --- | --- | --- |
| Paul, Les & Ford, Mary | Put A Ring On My Finger | 61-?? | Philips | 322317 BF | B |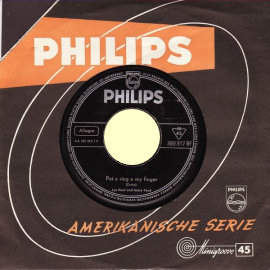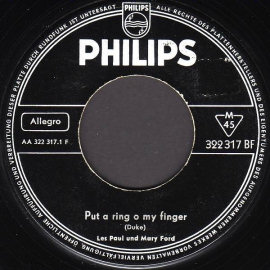 There's no need to say anything about Les Paul and Mary Ford; they are classics in their own right. - Since the mid-fifties Joe Meek used to write songs from time to time. One of them got into producer George Martin's hands who recorded it as a single with singer Eddie Silver: Put A Ring On Her Finger. The song flopped in England, but in the US Les Paul & Mary Ford heard it and recorded a cover version. This one made it into the US Top 40. For the first time ever Joe Meek earned money with a composition. Further cover versions of this song followed, among others by Tommy Steele. All in all his (catchy but musically not really remarkable) composition got Joe Meek about 3000 Pounds, which today would be equivalent to circa 120,000 Pounds, 190,000 US Dollars or 130,000 Euros. Meek used these royalties to start his own record company Triumph in 1960.
Les Paul, by the way, when he was asked whether he ever heard of Joe Meek, said that he "didn't really know anything about him" - which is not very astonishing, because Meek wrote the song under his Robert Duke pseudonym. When Les Paul was told that Meek's recording methods are very similar to his own, he said: "I'll be darned; that shows you how close someone can be, and yet so far away!" - Les Paul passed away on August 13, 2009.
| | | | | | |
| --- | --- | --- | --- | --- | --- |
| Rothe, Frank | Die Legende von Buddy Holly (Tribute To Buddy Holly) | 76-?? | Aladin | 1C 006-31991 | A |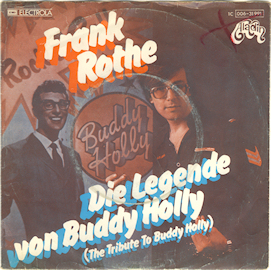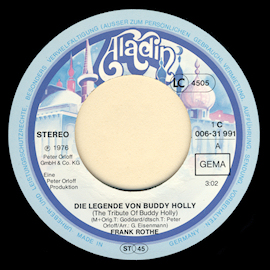 The German lyrics of this cover version are written by schlager singer and producer Peter Orloff; the original title is stated wrong on the label. Tribute To Buddy Holly was penned by Geoff Goddard and has been released in September 1961 with Joe Meek's vocally Holly reincarnation Mike Berry. The song was Meek's atmospheric obituary for his big hero, including a striking quotation of Peggy Sue. Mike Berry received a letter of thanks from Holly's surviving dependents for his single; nothing in this direction has been heard yet about Frank Rothe's version.
With a new sleeve (they forgot to apply for a permission to use the branded Buddy Holly portrait), new catalogue number (1C 006-45902) and wrong original title now also on the sleeve the record got a second chance later the same year.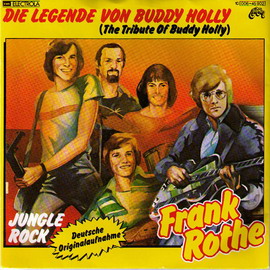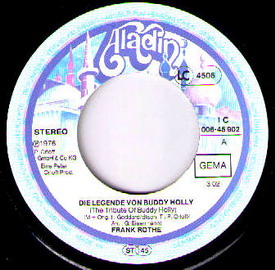 | | | | | | |
| --- | --- | --- | --- | --- | --- |
| Schubert, Herbert F. | Hallo Sweetheart (Don't You Think It's Time) | 62-12? | Electrola | E 22503 | A |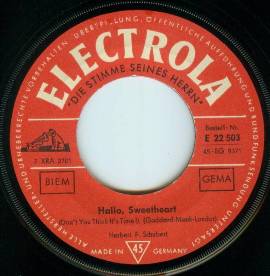 The German lyrics of this Meek/Goddard composition were written by Fred Landor.
Hallo, Sweetheart was also released in 1963 on the album "Fernsehstars singen ihre Erfolge" ("TV stars sing their successes") (MFP 1M 046-31004 B3)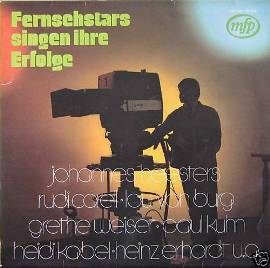 Herbert F. Schubert (born February 12, 1937, in Klodzko/Silesia, Poland) was a well-known dancer, choreographer and teenager heartthrob of the 1950s and 1960s. After an apprenticeship as logistics manager in Herford he went to Hamburg to take dance, singing and acting classes, besides this he jobbed as a waiter in Hamburg's red light district Sankt Pauli. In 1957 he started his professional career in São Paulo where he had his own TV show. After his return he worked in Paris with Maurice Béjart, in 1962 he founded his own dance company named "Herbert-Dancers", ran a ballet school in Hamburg (Ute Lemper later became one of its students), and finally in 1967 he became head of the German ZDF TV ballet company. All in all he took part in more than 300 TV shows all over the world, at the Deutsche Schauspielhaus in Hamburg he collaborated with famous actor Gustaf Gründgens. As a singer he was less successful. In the 1980s he became head of the ballet company of the Stadttheater Münster and teached as a visiting professor at the University of Arts in Berlin and the Hochschule für Musik und Theater in Hamburg. He had to retire in 1996 after falling seriously ill but remained active as a creative consultant for show events from time to time. Herbert F. Schubert passed away in May 2011 in Berlin.

Herbert F. Schubert
| | | | | | |
| --- | --- | --- | --- | --- | --- |
| Spotnicks | Space Ship Rendevous (The Outlaws) | 63-00 | Polydor | 52206 | A |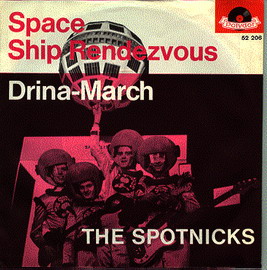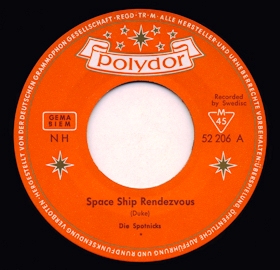 | | | | | | |
| --- | --- | --- | --- | --- | --- |
| Steele, Tommy | Put A Ring On Her Finger | 58-10 | Decca | DL 25010 | B |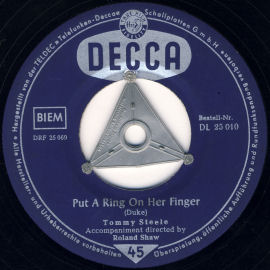 Remarks on this song see above (Les Paul & Mary Ford).
| | | | | | |
| --- | --- | --- | --- | --- | --- |
| Telstars, The | Telstar | 63-?? | Polydor | 24939 | A |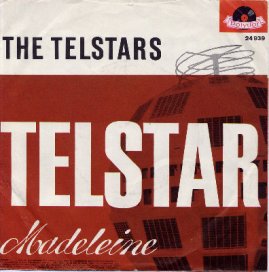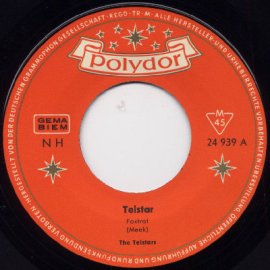 German 45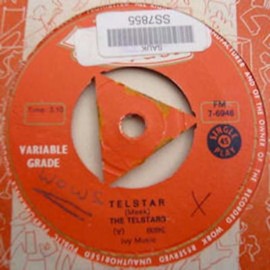 South African 45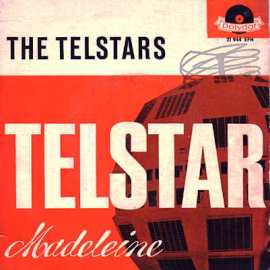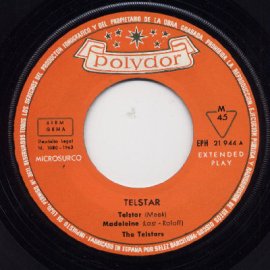 Spanish EP
This instrumental was released on a 45 A side in Germany and South Africa. In Spain its two sides were released as side A of an EP (Polydor 21944 EPH); on side B there were two tracks with the Bert Kaempfert Orchestra. Both records didn't have any commercial success. The track also appears on the EP "Die aktuellen Volltreffer, 2. Folge" (Polydor F 76563 A1), a special edition for Bertelsmann Schallplattenring (records club):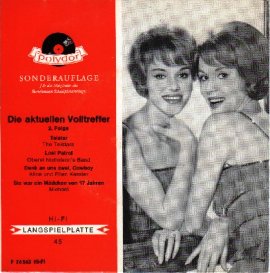 "The Telstars" are singer, songwriter, sound engineer and later producer Wolfgang Roloff (born March 10, 1930, in Bremen) and trombonist, orchestra leader and arranger Kai Warner (= Werner Last, born October 27, 1926, in Bremen).
Roloff had been in the music business already since 1954 as a soloist under his real name or under pseudonyms with several ensembles (The Blizzards, Valerie-Trio, Bob & Eddy); under several fantasy names - like here - he recorded also instrumental music. Besides this, in 1963 he laid down an "adult humor record" under the name of "Otto Bänkel" on the Philips sublabel Fontana, wearing old-fashioned suits, a bowler hat and an affixed mustache. (Later he passed this pseudonym on to Radio Bremen editor Charlie Goldbeck who went on with this shtick for the budget label Elite Special). In 1959 he started a collaboration with producer, composer and lyricist Hans Hee (January 30, 1924 - December 10, 2009). This team became highly successful: In 1964, Roloff started into a singing career under the name of "Ronny", they successfully achieved the feat to inject three hits into the orbit within only one year: Oh My Darling Caroline, Kleine Annabell, Kein Gold im Blue River; later, in 1968 Ronny added the folk music hit Hohe Tannen. The Roloff/Hee team at this time also provided several horrible tearjerkers for the then 13-year-old Dutch import Heintje. Their opus Sierra Madre del Sur from 1970 finally failed in Ronny's own version but in the eighties it sold like hot cake in the German folksy schlager scene when several of its stars - like Marianne & Michael, the Schürzenjäger, the Kastelruther Spatzen - covered the song. Ronny retired from being an active musician around 1984 but still ran successfully his recording studio in Bremen-Oberneuland. Wolfgang "Ronny" Roloff passed away on August 18, 2011, in his hometown.
Kai Warner studied music theory as well as piano, trombone and composition, in his beginnings he worked mainly as a film music arranger. During a couple of semesters in the U.S. he played with several big bands, after his return to Germany he played with several ensembles, among them "The Blizzards" with Roloff. In 1966 he finally became in-house producer at Polydor Records, where he discovered the talents of schlager singer Renate Kern, Mel Jersey and others. Because in the mid-1970s the giant shadow of his brother James Last (who made a third of Polydor's business volume with his "happy sound" at that time!) became too irksome to him, he finally changed to Philips Records. Kai Warner passed away on July 9, 1982, in Hamburg, shortly after the release of his last record.
| | | | | | |
| --- | --- | --- | --- | --- | --- |
| Timmerman, Gert | He-jo, Südwind (Wild Wind) | 62-?? | Telefunken | U 55396 | A |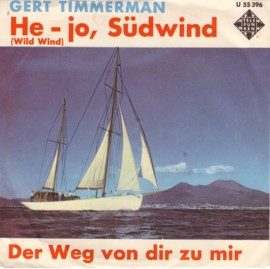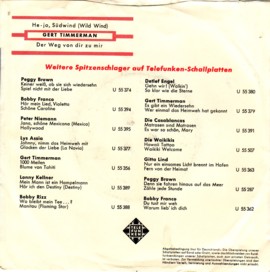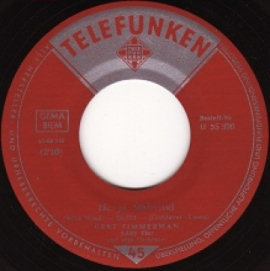 The original song was entitled Wild Wind and sung by John Leyton. As any proper Joe Meek or Geoff Goddard song, Wild Wind doesn't do without mentioning death ("Hey there, wild wind, when my time is done / Carry my soul beyond the sun / Far away, wild wind"). The German lyrics, written by very busy Günter Loose (who, among other things, provided German lyrics for a couple of Johnny Cash songs) were only a pale reflection: "He-jo Südwind, wenn die Wolken zieh'n / Möchte ich gerne mit ihnen flieh'n / Bring mich heimwärts, Südwind" ("Heyo south wind, when the clouds are drifting / I would like to flee with them / Carry me home, south wind"). Besides this, the original song has one of Meek's wildest choir arrangements, which the copy by far can't keep up with.
Gert Timmerman (b. June 8, 1935) is a very successful singer and schlager composer at home in the Netherlands. As several of his fellow countrymen, he recorded a couple of tracks in German language in the sixties, sometimes using the name Gerhard Zimmermann, but the success was rather limited. His first big success in the Netherlands was Ik heb eerbied voor jouw grijze haren ( "I Respect Your Grey Hair") in 1963, written by Bobbejaan Schoepen. (This song had been a hit already in Germany two years earlier with singer Camillo Felgen: Ich hab' Ehrfurcht vor schneeweißen Haaren.) With his then wife he found the duo Gert & Hermien; during the sixties and early seventies they brought in more than 20 Golden Records. In 1974, the two of them became converts to Baptism. This nearly disrupted their career, even though they often took part in missionary broadcasts of EO ("Evangelische Omroep"). Finally Gert & Hermien broke up with Baptism and moved to Israel. They returned to the Netherlands in 1977. In the nineties, Timmerman got loads of trouble with his family and his management and hid from the press for a while. An attempted comeback with his son in 1999 failed. In 2006, Timmerman appeared as "hotelier" in the Dutch reality TV show "Hotel Big Brother", but quit after 55 days for reasons of conscience. Recently Timmerman could be seen in missionary TV shows again, where in 2011 he announced that he is nearly deaf now and not able to sing or compose anymore.

Gert Timmerman, ca. 1963
| | | | | | |
| --- | --- | --- | --- | --- | --- |
| Wolf, Donald | Gold in der Sierra (Only The Heartaches) | 63-?? | Decca | D 19556 | A |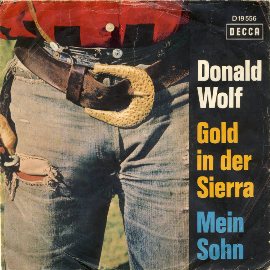 Back sleeve (detail): "Donald Wolf, cowboy with doctoral cap"
The original is "Only The Heartaches", sung by Joe Meek's Northern England cowboy Houston Wells. Originally, this song is based on an American traditional known as Streets Of Laredo or Cowboy's Lament. For Houston Wells it got new lyrics written by Wayne P. Walker. The (adequate) German lyrics were written by Dolf Bokler, who did some more similar western and itchy-feet lyrics, but mainly he wrote folksy sing-along lyrics. (An impressing version of the original Streets Of Laredo is to be heard on Johnny Cash's album "American IV - The Man Comes Around" from 2002.)
Donald Wolf's real name was Eberhard Werthmann; his doctoral thesis mentioned on the back sleeve above was entitled "The tendencies of the German record industry, its current state and its market models", for which he received his Dr. rer. pol. (Ph.D.) in June 1958 from the Karl Franzens University of Graz, Austria.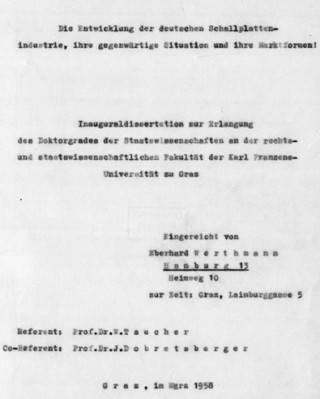 Cover page of Eberhard Werthmann's doctoral thesis, 1958
Eberhard Werthmann already had an office day job when he took part in a singing competition. Kai Warner (see above, "The Telstars") hired him for a back-up vocal group. He encouraged Werthmann to step into a solo career and recommended him to a duo called "The Colorados" which became his band for a while.
One member of the Colorados was sound engineer and singer Wolfgang "Ronny" Roloff (see also above under "The Telstars") who had a collaboration going with producer, composer and lyricist Hans Hee. In all probability it was Hee who took Werthmann under his wing and introduced him to Teldec Records.
Not a bad start, one should think. But Donald Wolf's solo career came to nothing, even though no obvious mistakes were made: With his sonorous baritone voice somewhere between Ronny and Freddy Quinn he systematically surfed the "cowboys and sailors" wave that was highly popular in Germany at that time and had given these singers massive chart successes. Also the record company bore with him - Gold in der Sierra already was the third run-up, and Teldec provided him first-class musicians: Arranger and bandleader of this recording was no less than Ladi Geisler (November 27, 1927 - November 19, 2011), the well-known player of the legendary "knack bass" in the Bert Kaempfert Orchestra. Besides this, the original song, Houston Wells' Only The Heartaches, had been in the UK charts for ten weeks. Musically as well as lyrically Wolf's cover version was in the thick of the zeitgeist; so as far as anyone could judge, this 45 should have been an average hit at least.
It wasn't meant to be. Wolf apparently didn't expect any realistic chance anymore after three false starts and turned to a day job as business journalist. Nevertheless, a follow-up 45 was released in 1964: Die richtige Liebe (True Love), but its flip side title turned out to be prophetic: Adios, Pasado, Vorbei (Goodbye, Over, Out). It remained Wolf's last record. Indeed, in the late summer of 1965 he recorded two further songs with the Martin Böttcher Orchestra: Thank You, My Darling, Goodbye / Wer weiß, wohin die Sonne uns führt (Who knows where the sun will lead us to) and had the opportunity to present one of them in the ZDF TV boulevard magazine "Die Drehscheibe" on January 12, 1966, but the songs didn't appear on record anymore.
After his failed Donald Wolf career the sun lead Eberhard Werthmann to a more successful professional life as a businessman. He passed away in Hamburg, probably around 2000 (it's not possible to find out the exact date). The bereaved hired Ladi Geisler to play on his funeral obsequies. Geisler didn't notice who the deceased had been a long time ago - until a record of Donald Wolf was played.

Donald Wolf (= Eberhard Werthmann), 1963
* * *
Alle Mädchen wollen küssen / Be Mine
Be Mine, laid down 1959 by Lance Fortune in English language, was the first Top 10 hit Joe Meek produced. It was a cover version of a German schlager.
The tune, catchy as hell, was written in 1958 by Tobby Lüth, Joe Menke and Mario Panas (= Leo Leandros, born 1926 as Leo Papathanassiou in Astakos, Greece) under the title Alle Mädchen wollen küssen. It was first published in 1959 with singer Leo Leandros as the flip side of his 45 Carmen Ramona.
| | | | | | |
| --- | --- | --- | --- | --- | --- |
| Leandros, Leo | Alle Mädchen wollen küssen | 59-02 | Philips | 345127 PF | B |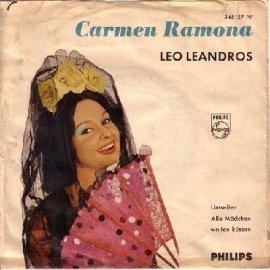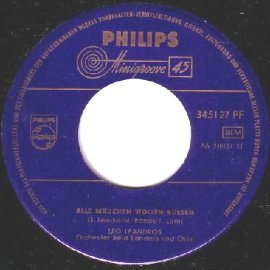 The original version: Leo Leandros with Bela Sanders orchestra and choir. The record was listed in the March edition of record magazine "gut aufgelegt", so in all probability it must have been released in February 1959.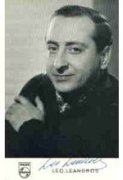 Leo Leandros
This (slightly lame) version became the blueprint for a first cover version:
| | | | | | |
| --- | --- | --- | --- | --- | --- |
| Jordan Brothers | Be Mine | 59-08 | Jamie | 1133 | A |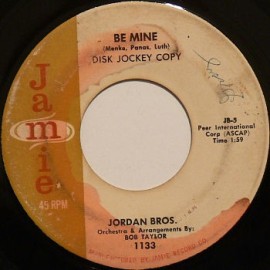 This record, arranged by Bob Taylor, was released in the U.S. in August 1959 with the Jordan Brothers. The English lyrics are written by the Belgian record producer Marcel Stellman.
Today it's not possible anymore to find out whether Joe Meek heard the song first in the German original or this American cover version. But he definitely appointed Johnny Prendy (= John Barry) to provide a much more crisp arrangement for the song. Be Mine was released with singer Lance Fortune in January 1960. This recording reached #4 in the UK and stayed in the charts for 12 weeks:
| | | | | | |
| --- | --- | --- | --- | --- | --- |
| Fortune, Lance | Be Mine (Alle Mädchen wollen küssen) | 60-01 | Metronome | B 1396 | B |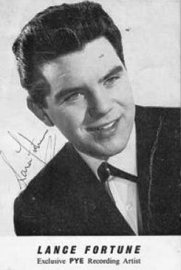 Lance Fortune
This is the cover version produced by Joe Meek. Lance Fortune's real name is Chris Morris, born 1940 in Birkenhead, Merseyside. His manager Larry Parnes later handed this pseudonym over to Clive Powell for a while who finally became known as "Georgie Fame".
The accompaniment director "Johnny Prendy" is a pseudonym of composer and arranger John Barry (= John Barry Prendergast, November 3, 1933 - January 30, 2011).
A little bit later this version was "covered back" by Peter Kraus as an A side:
| | | | | | |
| --- | --- | --- | --- | --- | --- |
| Kraus, Peter | Alle Mädchen wollen küssen (Be Mine) | 60-?? | Polydor | 24209 | A |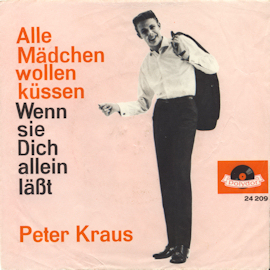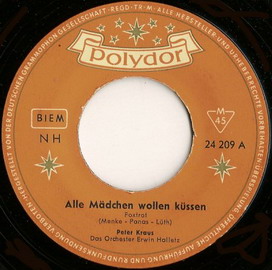 The cover version of the cover version, 1960, with the original German lyrics, but arranger Erwin Halletz, to put it friendly, is geared here to the arrangement of the Fortune version.
Stereo mixes were available on Polydor 220 209 A and on the EP "Rendezvous mit Peter":
| | | | | | |
| --- | --- | --- | --- | --- | --- |
| Kraus, Peter | Alle Mädchen wollen küssen (Be Mine) | 60-?? | Polydor | 224079 SEPH | A1 |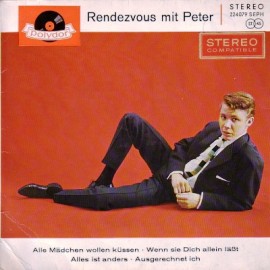 Besides this, for Peter Kraus the German copyright society GEMA in its index of compositions lists also a version for vocals and piano, arranged by Konrad Amberg, but it's not possible anymore to find out for which occasion it was made for - probably a movie or a TV show. Two further adaptations of this track have been made for "band" and "concert band", arranged by Werner Lang and Erich Sendel, apparently for the presentation on stage.
As a typical "schlager" of the late fifties and early sixties, the tune has been covered again and again:
| | | | | | |
| --- | --- | --- | --- | --- | --- |
| Bertram, Rainer | Alle Mädchen wollen küssen (Be Mine) | 60-?? | Tempo | 773 | A |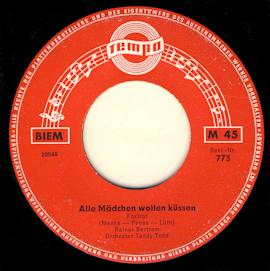 Even though he was able to leave the budget label Tempo and to went on to Polydor, Metronome and later Deutsche Vogue: As a singer, Rainer Bertram (= Rainer Hans Clemens Schink, born December 19, 1932, in Dachau near Munich) wasn't very lucky, even though he made circa 40 records. So he gave up his musical career in 1964. After a short interlude as an actor in Vienna he became one of the most successful directors for TV shows in German television up till the nineties. Rainer Bertram passed away on December 23, 2004, in Munich.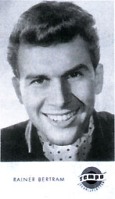 Rainer Bertram, circa 1960
| | | | | | |
| --- | --- | --- | --- | --- | --- |
| Crim, Christopher | Alle Mädchen wollen küssen (Be Mine) | ? | Roxy | C 646 | |
Single-sided flexidisc, early sixties
| | | | | | |
| --- | --- | --- | --- | --- | --- |
| Frey, Hanno | Alle Mädchen wollen küssen (Be Mine) | ? | Prima | 22 | |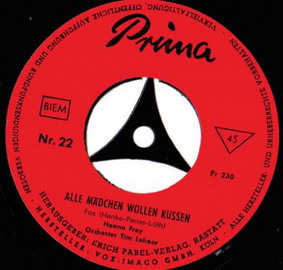 Single-sided flexidisc, early sixties
"Prima" was a flexidisc label runned by Erich Pabel Verlag, a publishing house mainly for comics and pulp novels (most famous probably "Perry Rhodan").
The two records shown above are using the same recording. Originally it came from the Munich-based budget label Starlet which used to license its recordings to several other budget labels.
The names Hanno Frey and Christopher Crim are of course pseudonyms. Mostly this singer used the name Tim Olaf, under this name there's even an autograph card existing (see below). He also recorded under the names Tid Felder, Eddy de Groot and Gerd Wienand; as "Solm Brothers" he even did two-voice multiplay recordings. Under these names (and maybe also as Ronny Merten, Fred Solm and Hilmar Stephan) he worked for several budget labels, among others Bobby, Hallo, Imavox (a Prima subsidiary), Terra-Ton, Tip-Top and Tonika. With a recording entitled Bosporus Blues Tim Olaf (under this name) even managed to get published by Ariola Records in 1961. But the couldn't manage to get away from budget labels. His next record appeared on the Tip label in 1962, after that his track is lost for a a couple of years.
Tim Olaf's real name is Clemens Faulstich (born 1938 probably in the Munich area), in 1954 he started an apprenticeship as electrician at a big Munich electrical industry group. He was a school day friend of German actress Christiane Rücker; from 1965 to 1968 the both of them were married to each other. In 1966, he - under his main pseudonym - started playing the drums with a dance band named "Die Contis". After all, they were able to record an abum under the direction of Ralf Bendix, named "12 x Gold". It was released by budget label "Die Volksplatte" in 1969, the band sold it mainly at their live gigs. In 1971, Faulstich gave up his Tim Olaf pseudonym and went under the name Nicki Collander until the Contis split up in 1974. Not much is known of Faulstich's whereabouts after this. He probably lived in Thailand for a couple of years, in the 1990s he played in the kurorchester (salon orchestra) of the tourist information bureau of Oberstdorf (in the Allgäu region of the Bavarian Alps). Clemens Faulstich passed away in 2013 (a different source says 2011) in Munich.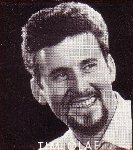 Clemens Faulstich, circa 1960 - pseudonyms: Tim Olaf, Hanno Frey, Christopher Crim, Tid Felder, Eddy de Groot, Gerd Wienand, Solm-Brothers and probably some more
By the way: Budget labels were a phenomenon mainly from the fifties to the seventies; most of them gave up then (a few of them, however, switched over to records and cassettes for children then and became phenomenally successful). Cover versions of popular hits were their main business, produced at low costs with unknown singers and musicians and sold mainly at department stores, supermarkets and gas stations. Their record sales weren't and aren't counted for the charts, but we can be sure that during the 1960s in Germany hundreds of thousands of budget records rotated at party rooms in the basements, alotment garden parties and skittles evenings.
When instrumentalists and singers appeared on budget labels, it didn't necessarily mean they were second-rate musicians. Some instrumentalists who worked for the Munich-based budget label Tempo are known for being members of the Max Greger Orchestra; members of the Hamburg-based hard rock band Lucifer's Friend (who again had personal cross-connections to James Last Orchestra) did recordings under several fantasy names for the budget label Europa. Working under pseudonyms for budget labels could be a lucrative source for an extra income especially for instrumentalists; sometimes this was their bread-and-butter job, allowing them to play under their real name the music they really liked.
The pseudonyms used by singers and musicians who appeared on budget labels are nearly impossible to decipher, particularly since sometimes these record companies released recordings of several different singers under collective pseudonyms. Radio and TV, however, never played these records, so the real persons behind the pseudonyms always remained unknown. And the GEMA (the German copyrights society), where of course all pseudonyms are registered, doesn't give any information, even if the name holders deceased long ago. Usually these musicians didn't participate in the record sales, they were paid per recording session. That's why especially the vocalists had to gig under several pseudonyms for several labels: It was pure necessity; they couldn't have survived otherways.
| | | | | | |
| --- | --- | --- | --- | --- | --- |
| Fischer, Horst Tanzorchester | Alle Mädchen wollen küssen (Be Mine) | 60-06 | Philips | 423366 PE | A2 |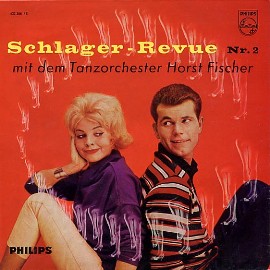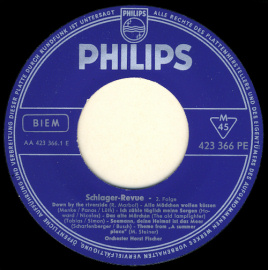 An instrumental version with trumpeter Horst Fischer, second part of a medley, from the EP "Schlager-Revue Nr. 2".
| | | | | | |
| --- | --- | --- | --- | --- | --- |
| Garlands, The | Alle Mädchen wollen küssen (Be Mine) | ? | London | DL 20334 | A |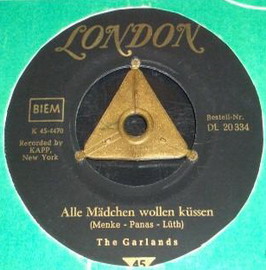 Another instrumental version. It was released originally in the U.S. under the title Be Mine on Kapp Records 329 B, on the A side of that Kapp 45 a vocal version with David Hill could be heard.
For the German release the record company preferred the German title because it sounded more familiar there. (In the fifties and sixties it was not unusual to rename foreign instrumentals with - sometimes absurd - German titles, because most Germans and Austrians at that time didn't speak English, so in a record shop they wouldn't have had a clue how to pronounce them.) The Garlands were an American instrumental band without any hits. No further informations on this band are available. The track on side B is East Wacker Drive with singer Phil Barry.
| | | | | | |
| --- | --- | --- | --- | --- | --- |
| Gerry, Bob | Alle Mädchen wollen küssen (Be Mine) | ? | Baccarola | 25030 | ? |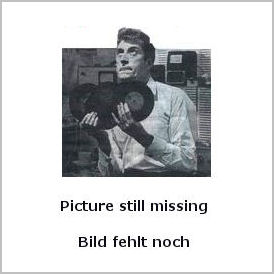 | | | | | | |
| --- | --- | --- | --- | --- | --- |
| Gerry, Bob | Alle Mädchen wollen küssen (Be Mine) | 60-?? | Baccarola | 26014 | B1 |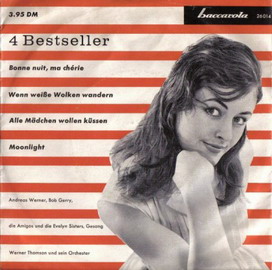 "Bob Gerry" is again one of those typical budget label pseudonyms. The singer with the real name Werner Hass (b. December 25, 1927) started his career in the GDR with the "Singende Vier" ("The Singing Four") until his working permission was revoked, so he had to move to Western Germany in 1959. As a soloist and with his sister Ilse (then usually as "Geschwister Haas") he recorded for Telefunken, Decca, later also Metronome, Polydor and Ariola as well as for Tefifon tapes. From the beginning he also worked for the budget labels Baccarola and Opera; usually under the pseudonyms Bob Gerry and Pat Hardy, maybe also Ted Hobbs. He took part in Günter Neumann's then famous RIAS radio cabaret group "Die Insulaner" as well as in numerous radio shows by and with quiz show host and entertainer Hans Rosenthal. In 1973, the Senate of Berlin hired Hass as Official in Charge for the promotion of artists, after he retired he lived in Florida from time to time. Werner Hass passed away in February 2017 in Berlin.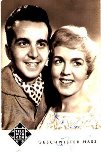 Werner and Ilse Hass, early sixties
| | | | | | |
| --- | --- | --- | --- | --- | --- |
| Gerry, Bob | Alle Mädchen wollen küssen (Be Mine) | 60-?? | Bertelsmann | 26014 | B1 |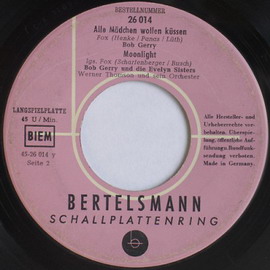 The Bertelsmann Club release of the Baccarola EP shown above.
| | | | | | |
| --- | --- | --- | --- | --- | --- |
| Jackson, Rockie | Alle Mädchen wollen küssen (Be Mine) | 60-?? | Elite-Special | 9977 | B |
Jackson's real name is Erhard Jungnickel, born August 21, 1940, in Vienna.
| | | | | | |
| --- | --- | --- | --- | --- | --- |
| Mosé, Günter | Alle Mädchen wollen küssen (Be Mine) | 60-?? | Opera | ? | ? |
Mosé, sometimes also spelled Mosee was born as Günter Mosig on December 6, 1929, in Berlin. He was a member of Trio Sorrento.
| | | | | | |
| --- | --- | --- | --- | --- | --- |
| Crazy Otto | Alle Mädchen wollen küssen (Be Mine) | 60-?? | Polydor | 24368 | A1c |
An instrumental version as part of a medley, played by Fritz Schulz-Reichel (a.k.a. "der schräge Otto" or "Crazy Otto") on a intendedly detuned piano.
| | | | | | |
| --- | --- | --- | --- | --- | --- |
| Babaloo | Alle Mädchen wollen küssen (Be Mine) | 83-?? | EMI | 1C 006-2002187 | A2 |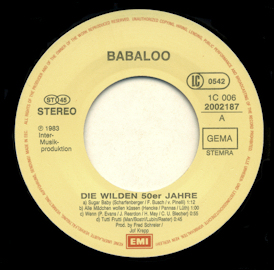 Alle Mädchen wollen küssen is part of a medley here, a 45 under the headline "Die wilden 50er Jahre", taken from an LP of the same name (EMI 1C 038 26 0503 1). The project Babaloo was runned by producers Fred Schreier and Jof Krep.
| | | | | | |
| --- | --- | --- | --- | --- | --- |
| Roten Rosen, Die (= Die Toten Hosen) | Alle Mädchen wollen küssen (Be Mine) | 87-?? | Virgin | 109 561 | 1 |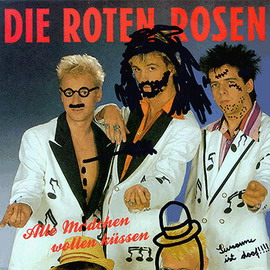 Cover version of the Peter Kraus single from 1962 - the cover version of the cover version of the cover version, so to speak.
| | | | | | |
| --- | --- | --- | --- | --- | --- |
| Rumble On The Beach | Alle Mädchen wollen küssen (Be Mine) | 93-?? | Fuego | 325436 | 3 |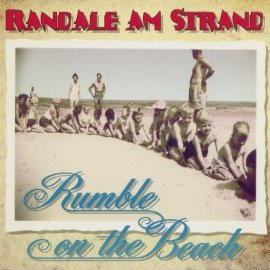 This cover version from the album "Randale am Strand" sounds like a fizzled karaoke version of the Tote Hosen version, but that may be intended.
| | | | | | |
| --- | --- | --- | --- | --- | --- |
| Nordwind | Alle Mädchen wollen küssen (Be Mine) | 98-?? | Dim | DIM 062 | ? |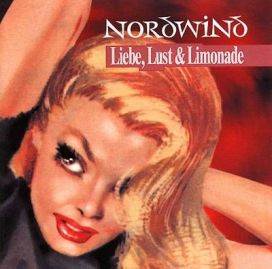 This seems to be the latest German cover version. This band -- not to be mixed up with the folk band of the same name -- is part of the right-wing extremist scene. Joe Meek wouldn't have liked that.
Further cover versions in foreign languages of Be Mine were released in the U.S. by Lillian Briggs (Coral 9-62193 B, März 1960), in Brazil by Tony Campello (Sejo o meu amor, Odeon MOFB-3164, June 1960) and in the UK by Rikki Henderson (Embassy WB 388, April 1960). In 1961, the Dúo Dinámico presented an EP with a version in Spanish language: Solo para mi (HMV 7EPL 13.591 B2). In 1985 a Dutch cover version appeared, Alle Meisjes willen kussen (Philips 884216-7) by John Spender (= Henk Van Broekhoven).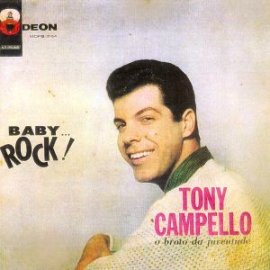 ---
Pictures/sources: Harald Bluschke, Daddy-O, Joachim Freese (coverinfo.de), Dietrich Heitz, Michael Jonas, Jürgen Koppelin, Henny de Leeuwe-Kleijngeld, Hermann "The German" Lembke, Klaus Link, Bernd Matheja, Thomas Meyer, Gerd Miller, Dieter Moll, Jan Reetze, Jörg Richard, Marianne Schmidt, Hartmut Schulla, Andreas Strebel (oldies-but-goldies.at), Gerd Ziemke (ronny-fan-club.de), Wolfgang Zschauer; Barry Cleveland: Creative Music Production; Covergalerie, Hamburger Abendblatt, CK CastingKultur, Discogs, Echoworld, esctoday.com, Internet Movie Data Base, Karl-Franzens-Universität Graz, Memoryradio, Opernpalais, Rock'n'Roll-Schallplattenforum
---
[Home] [Joe Meek Portrait] [Complete Recordings] [Meek Compositions] [Goddard Compositions] [Triumph Story] [CD Discography] [Noten/Scores] [Telstar Cover Versions] [Meek in Germany] [Literature, Documentaries etc.] [Miscellaneous] [Links] [About] [Contact] [Sitemap]
---
© 2006 Thomas Meyer, Jan Reetze
last update: Mar 6, 2017