JOE MEEK
---
The Triumph Records Story
Part 1: 1960 - The start
(

hier)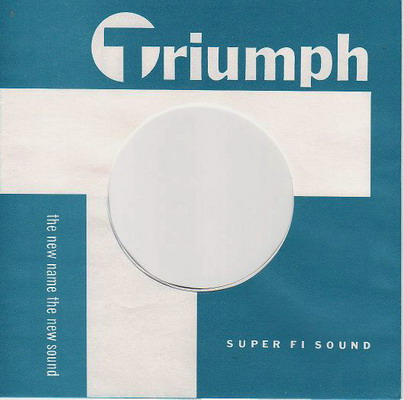 Triumph sleeves
Joe Meek's first and only attempt to run his own record company lasted for just three quarters of a year. One may think that Triumph Records isn't worth mentioning then, but in fact there's more than one reason to do so. The main reason, of course, is Triumph's release of a record which is unique even seen in the light of all the oddities pop history has to offer: Joe Meek's "outer space stereo fantasy" I Hear A New World.
But let's start at the beginning. In the late fifties, Meek had set up a tiny little recording studio in the bedroom of his flat at No. 20 Arundel Gardens in the London district of Notting Hill. With a couple of musicians he knew from his job, he produced there (and secretly at night at Lansdowne Studio, his working place) some test recordings which he tried to place at record companies. This turned out to be a more or less fruitless business - until Be Mine by singer Lance Fortune (a cover version of a German schlager entitled Alle Mädchen wollen küssen; more info here), which he had managed to place at Pye Records, peaked at #4 of the GB charts.
To spare himself this job as a kind of door-to-door salesman, Meek talked to Wilfred Alonzo "Major" Banks, member of the board at Saga Records, which was a record company but had also produced some movies and runned a couple of cinemas. At Lansdowne Studio, Meek had recorded George Chakiris for this company, so he was known there. Banks, as he hoped now, could help him setting up a record company, and moreover, Saga could take over the distribution of the records Meek's company would release.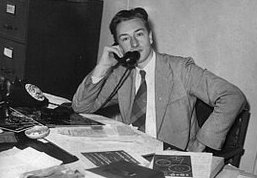 William Barrington-Coupe, ca 1960
(Photo: Collection Garth Banks)
Banks wasn't interested, but he handed Meek's inquiry over to his board colleague William H. Barrington-Coupe (and probably endowed Barrington also with the needed start-up capital). On February 25, 1960, just after Meek had terminated his job at Lansdowne, he and Barrington-Coupe founded Triumph (Superfi) Sound Limited; the company was officially registered on March 31, 1960: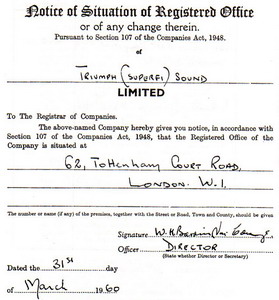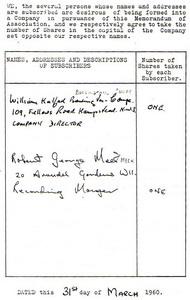 Right from the beginning, Triumph Records came out with unusual marketing methods, and also for the record retailers they offered massive sales promotion. In a newsletter from February 18, 1960, the Saga distribution department prepared the "Dear Mr. Dealer" for the forthcoming sensations: "Enclosed with this letter are full particulars of the new Saga issues on the Triumph label, which in future will carry out our special 'pop' releases. These records are being planned with the teenage market well in mind, and the 45s will introduce some new teenage stars. They will receive top publicity in the 'pop' press, as well as special additional exploitations."
This means: Triumph Records defined the youth between 13 and 19 as its target group. Seen from today, this doesn't sound very sensational, but in 1960 it was completely new. Unlike the U.S.A. at that time, in Great Britain records were still purchased mainly by adults. As skiffle star Lonnie Donegan retrospectively stated in a BBC interview: By aiming the teenagers as record buyers, Joe Meek opened up a completely new market which simply didn't exist before.
For this new group of buyers, Triumph/Saga came up with a lot of ideas. The company not only placed ads in the pop gazettes for any of their new releases, they also heated up the retailers by articles in their "Record Retailer" journal. And Triumph covered the shops with loads of point-of-sale materials: photos, posters, stickers, mobiles. "There is plenty of display material available for dealers - wall sheets, give-away picture cards for teenage customers, etc., samples of which are enclosed and you are strongly urged to make full use of these", as stated in the dealer's newsletter mentioned above. Even a DJ's competition was proclaimed: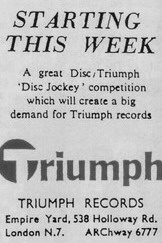 The first two 45 releases in February 1960 were announced with 200 posters pasted along the Central Line. And in April 1960 Meek started a weekly 15-minutes commercial broadcast on Radio Luxembourg's English program: "It's A Triumph!". There Meek presented the new releases, hosted by himself (under the pseudonym Johnny Watts) and Ricky Wayne (a later Mr. Universe), who himself became a singer for a while (Triumph released his song Chick'a'roo in April 1960).

next >>
---
Quellen/Sources: Garth Banks; Sammlung/Collection Harald Bluschke; Sammlung/Collection Jörg Richard; R. W. Dopson/A. D. Blackburn: I Hear A New World CD Liner Notes; Record Collector 186, Feb. 1995
---
[Home] [Joe Meek Portrait] [Complete Recordings] [Meek Compositions] [Goddard Compositions] [Triumph Story] [CD Discography] [Noten/Scores] [Telstar Cover Versions] [Meek in Germany] [Literature, Documentaries etc.] [Miscellaneous] [Links] [About] [Contact] [Sitemap]
---
© 2006 Jan Reetze
last update: Apr 9, 2011